Nvidia has announced a new promotional bundle that will see the eagerly awaited Ubisoft title Watch Dogs bundled with select GeForce graphics cards.
Quoting various media declaring the game to be "the Hottest Game of the Year," one of the "most wanted games of 2014," and one of the "Can't-miss video games of 2014", Nvidia is understandably pleased as punch to get the bundling rights for this next-gen title.
We've looked at Watch Dogs a number of times in the past here on HEXUS. It's an interesting title in which players use video-game staple techniques including guns, ammo and fast cars to progress but it also leans heavily on the connected city idea; "In the world of Watch Dogs, everything is connected… In Watch Dogs everyone casts a digital shadow". So there are smartphones and computer systems that are vital in the game environment to further your progress and reach your goals.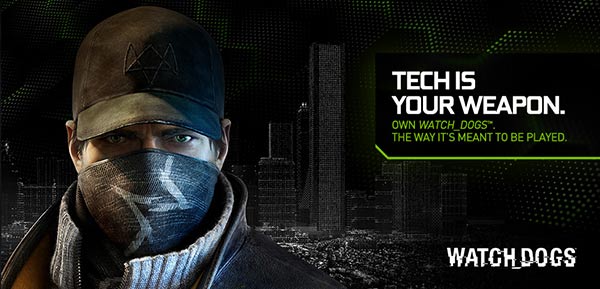 Our latest chunk of Watch Dogs information was a video showing various modes of multiplayer games, combat via hacking, gunplay and car chases and also revealed the skill trees players can work through to enhance their character. Earlier this month we also saw the publishing of the Watch Dogs GeForce GTX PC Technology Trailer, during which Nvidia and Ubisoft talked up the HBAO+ and TXAA enhanced "vivid and breathtaking Chicago experience" on offer.
Nvidia's Watch Dogs promotion is already in effect at various retailers*. Big name participants in the US include Amazon, Newegg, EVGA online and others, while in the UK graphics card buyers can get their Watch Dogs bundle (download code) through Dabs, Novatech, Ebuyer, Overclockers, and Scan Computers.
Qualifying purchases include the Nvidia GeForce GTX TITAN, 780 Ti, 780, 770, 760, 690, 680, 670, 660 Ti and 660 desktop GPUs. The game is launched on May 27.
Watch Dogs Season Pass
In related news Ubisoft has just released details about what will be included in the Watch Dogs Season Pass. The DLC is said to include a new single player campaign featuring a hacker by the name of 'T-Bone'. Also there will be a new 'Conspiracy' game mode, extra missions, more weapons and snazzy new raincoats.
The Season Pass will cost $19.99, representing a 25 per cent saving on buying the DLC as and when it comes out separately.
*UK readers can take advantage of the Nvidia Watch Dogs bundle at any of the following retailers: Dabs, Ebuyer, Novatech, Overclockers, and Scan Computers.