EA and Respawn Entertainment have announced that Titanfall will be released on 11th March 2014 in North America, exclusively for Xbox One, Xbox 360 and PC systems. Even before its launch this game has accrued "more than 80 coveted awards from critics around the world". Titanfall is said to be a thrilling, dynamic first-person action game featuring elite assault pilots and agile, heavily-armored, 24-foot Titans. Players can enjoy the freedom to switch back and forth between game modes as either pilot or titan to enjoy varied gameplay options. Titanfall is set in the near-future on a distant frontier torn apart by war. It certainly looks like a lot of fun in the gameplay videos.
The Titanfall game has been "crafted" by one of the co-creators of Call of Duty and other key developers behind the Call of Duty franchise whom splintered away three years ago to form Respawn Entertainment, an independent videogame development studio based in Van Nuys, California. The game was very well received at this year's GamesCom and as you can see below the game has been "on tour" and hugely enjoyed by many who could try it out.
"Since we revealed the game in June we've been absolutely blown away by the reaction to Titanfall," said Vince Zampella, a Co-Creator of Call of Duty and Co-Founder of Respawn Entertainment. "The feedback we're getting from fans around the world is fuelling our team as we head towards March and motivating us to deliver an experience that lives up to the hype."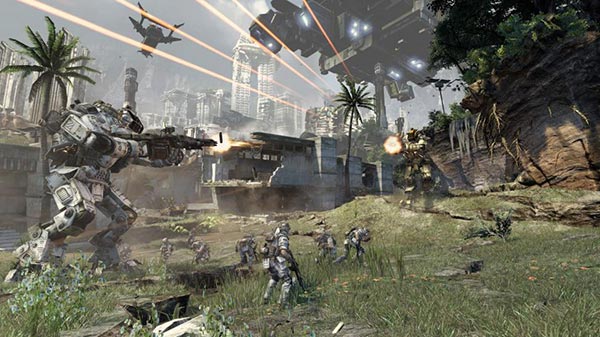 EA announced that Titanfall: Collector's Edition which is available to pre-order right now, alongside the regular game. The Collector's Edition has an MSRP of US$250, which if you choose to cough-up, will include; an exclusive collectible 18-inch hand-crafted Atlas Titan statue with diorama and battery-powered LED lighting, a full-size art book featuring more than 190 pages of rare concept art, and an exclusive full-size schematic poster of the Atlas Titan.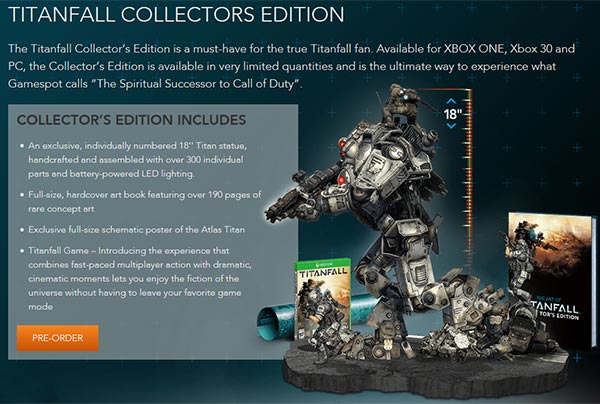 European customers will be able to get their hands on the game a little bit later than in the US with a release date of 13th March 2014. On PC the standard game will cost $59.99 in the US and £44.99 in the UK.