Alongside a Tweet asking the masses "Is your rig Prepared4Battle?" EA-DICE has revealed the minimum system requirements (MSR) and recommended system requirements (RSR) for PC hardware required to play the game. While the MSR list is almost exactly the same as for Battlefield 3, the RSR has jumped quite significantly.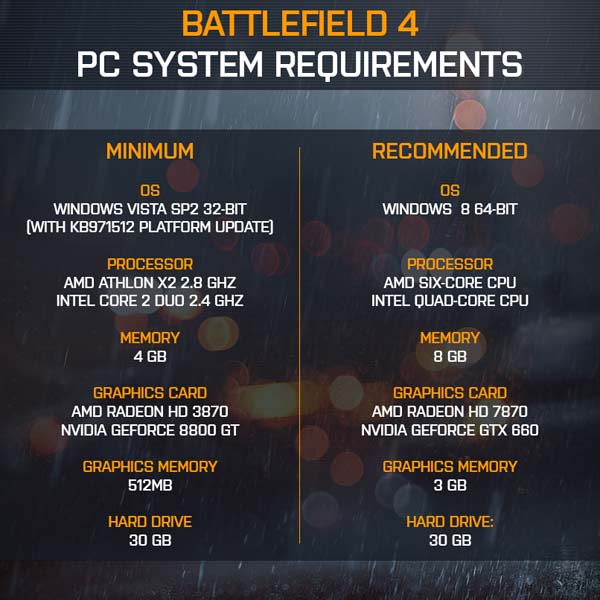 Starting by looking at the OS requirements it is interesting to note support for 32-bit OSes such as Windows Vista SP2 32-bit, though a minimum RAM spec is 4GB which a 32-bit system can't address fully. The RSR contrasts with the inclusion of Windows 8 64-bit and 8GB of RAM. The Windows 8 recommendation is possibly due to its support for DirectX 11.1.
The quad-core processor RSR of Battlefield 3 has been superseded by Battlefields 4's RSR of a six-core CPU from AMD or a four-core from Intel. Turning to GPU specs, 3GB of graphics memory and an AMD Radeon HD 7870 or Nvidia GeForce GTX 660 or better are recommended. However an AMD Radeon HD 7870 with 3GB of graphics memory doesn't exist in the market at this time.
Battlefield 4 will be available from October 29 for the Xbox 360, PlayStation 3 and PC. Battlefield 4 will also be made available for the Xbox One and the PlayStation 4 on the respective console's launch date in your region.