Thermaltake have released the "world's first gaming mouse with a fan cooling design". The company says the Black Element Gaming Mouse Cyclone Edition will "blow away your gaming tension and sweat". It's an exclusive edition for TT eSPORTS.
The original Black Element gaming mouse, upon which this new innovation is based, came out in 2010 and was chosen as World Cyber Games official hardware sponsor that year, an honour apparently. This new edition of the corded USB gaming mouse comes equipped with a hand cooling 6,000 RPM fan, for when you're getting hot and bothered at your computer, perhaps not just when gaming!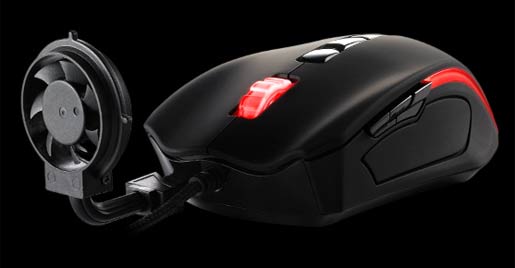 The key points that make this mouse stand out in practice are the 6500 DPI adjustable sensor, macro capability and the weighting adjustment options in 4.5g increments. However I have reproduced the full specification for the Black Element Gaming Mouse Cyclone Edition below, just for your delectation.
Mouse
Model: Black Element Gaming Mouse(MO-BLE001DTF)
T.P.G. (Tt Pro Grade) Gaming Laser Sensor 6500 DPI Engine (100 - 6500 DPI Adjustable), Functional on Most Surfaces.
OMRON© Gaming Switch Capable of up to 5 Million Keystrokes.
1.8 meters Braided USB Cable with Gold-Plated Connector.
9 Fully Customizable Macro Keys for MMORPG or RTS Game Genres.
Superb Customizable Graphical UI for Macro Keys, Advanced Performance, and Lighting-Effect Options.
5 Individual, Striking Pause-Break Lighting Effect.
Colours: Red, Blue, Green, Pink, Light Blue.
Industrial Grade Rubber-Coating Finish for better Hand Grip.
On-Board 128kb Memory Storage for 45 Macro Keys in 5 Game Profiles.
Weight-In Design for Perfect Handling Mouse Movement: (5 x 4.5g, up to 22.5g max)
Body Dimension (LxWxH): 123.8 x 66.7x 41.6mm.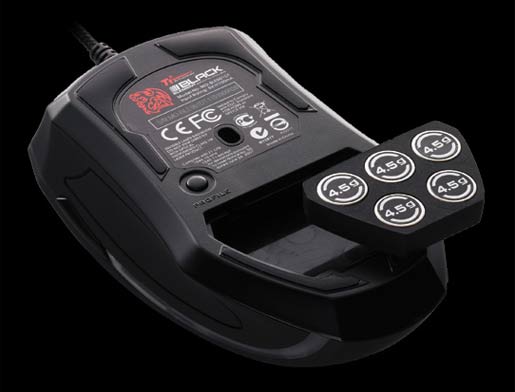 Fan
Fan Speed: 6,000 RPM (±15%)
Max. Airflow: 2.7 CFM
Noise Level: 21.7 dB
Rate Voltage: DC 5.0 V
Life Expectancy: 50,000 hrs
Body Dimension (LxWxH): 30 x 30 x 10mm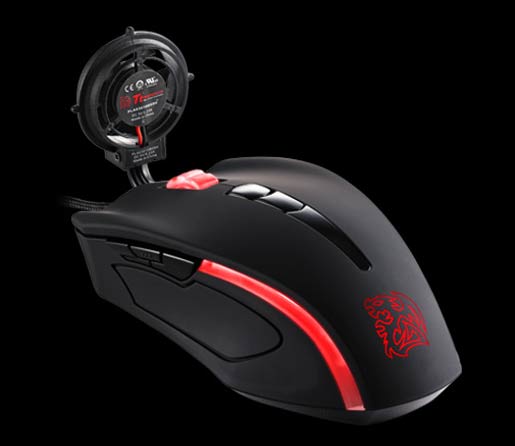 The fan is attached utilising a USB port at the front of the mouse near the mouse tail that connects to your computer. It is detachable and perhaps Thermaltake will make a Siberian edition with a heater of some sort in its place. Cold stiff hands are slow hands… There have been cooling fan equipped mice marketed previously; the OptiWind mouse was cooled from the inside.