"You are a thief & a vandal, for you have not only stolen my heart but have tatooed it…" reads the accompanying advertisement for its latest PC chassis, the seductively named 'Allure', on the IN WIN website,

Turns out that it's a sexy looking PC chassis, adorned with purple, nay, pink, floral design and decorated with 70 pieces of Swarovski crystal.

As the IN WIN website states, its housed in a swerving HDD cage rounded edge structure and acoustic design. The front panel flares up and slides effortlessly into the top of the chassis with a single touch.

It's even finished with white pearl.

I don't know about you, but this case, even just the description of it, has got me all hot under the collar and in the mood for some romance this evening. Very sexy.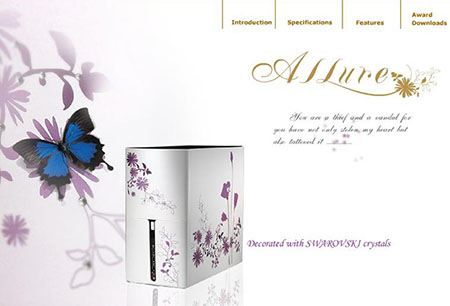 You can view other IN WIN chassis on the official website.