Ubisoft has wrapped up its E3 2019 presentation after quite a few important announcements. Probably the biggest news from the #UBIE3 2019 press conference was the announcement of the UPlay+ subscription service (PC Only). Other big news was the unveiling of Watch Dogs Legion, Ghost Recon: Breakpoint, plus announcements of Rainbow Six Quarantine, Assassin's Creed Odyssey's free story creator mode, and some free episodes are on the way for players of The Division 2.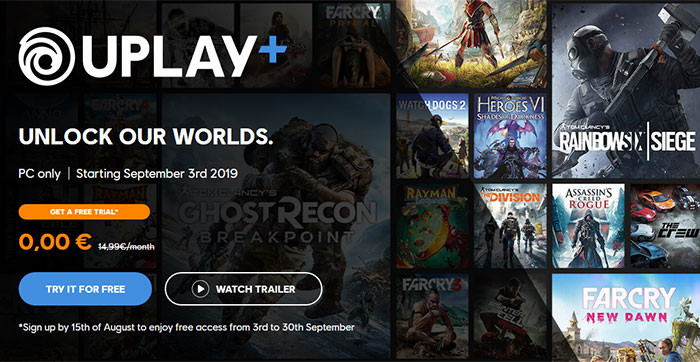 UPlay+
This PC only subscription service will start from 3rd September. Ubisoft's offering sounds quite similar to others in the market. You will have access to; 100+ PC games from Ubisoft's ever growing library of titles, as a subscriber you can access the premium editions with all the newest DLCs and expansions, you will be among the first to get new releases (3 days early access) and participate in beta programs.
On the sign-up page as seen from the UK the price of €14.99 seems rather steep (it costs $14.99 in the US). However, if one signs up before 15th August you can try it for free from opening day (3rd Sept) until 30th Sept. There is no fixed term commitment, with the account possible to be terminated at any time. On the other wise of the coin, Ubisoft hasn't mentioned any extended rates - such as yearlong subscriptions.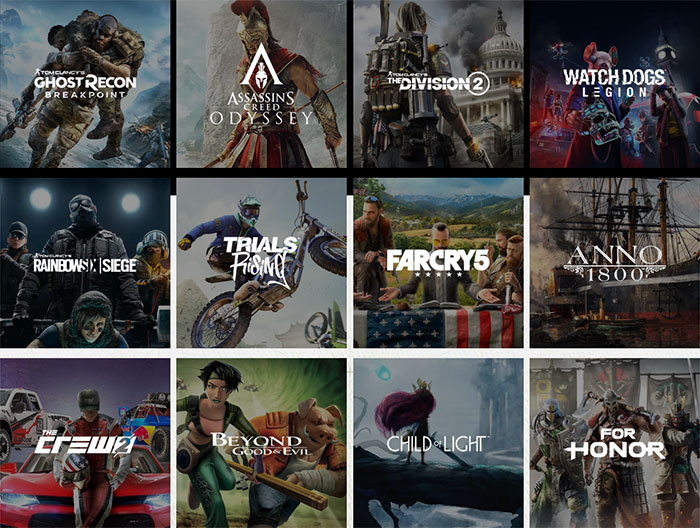 The appeal of this service greatly depends on your affinity for Ubisoft titles. The promo page highlights the above 12 titles from the 100+ that will be available to play. Though 'PC-only', Uplay+ works with Google Stadia.
Games
Ubisoft announced some highly anticipated new games titles and plans for DLCs and expansions for some of its popular existing games. Watch Dogs: Legion is indeed set in London. The story is that a corrupt privatised military corporation called Albion imposes martial law on the civilians, gangs rule back alleys, and there's a surveillance camera for nearly every person. Hacker group DedSec sees the birth of this dystopia and steps in, aiming to free the people of London from violent oppression and subjugation.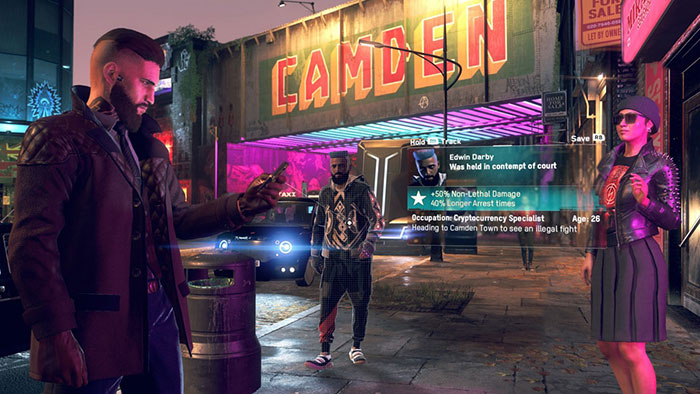 Central to the new game is that there is no main protagonist in Legion, as "every single character you encounter in the open world can be recruited to your cause and become a fully playable character". Though it is possible to assemble your team from a selection of "hacker grandmas," Ubisoft suggests you diversify your squad based on their unique traits, "which provide various boosts and nerfs to particular gameplay attributes". Furthermore, each team member will be assigned a distinct class; Enforcer, Infiltrator, or Hacker.
Watch Dogs: Legion launches on 6th March.
Other big announcements at E3 included the following:
You can see all the trailers and videos Ubisoft published during E3 via its YouTube channel.