A week ago HEXUS reported upon sightings of compatibility tools being tested on Linux-based SteamOS systems. Much of what was gleaned from that pre-launch leakage has now materialised, as Valve has launched a new version of Steam Play. Steam Play aims to bring more titles with Linux support to Steam's catalogue, and two years ago Valve started working on improving the quality and performance of Windows compatibility solutions for Steam games. Now a new Steam Play Beta includes a modified distribution of Wine, called Proton, and DirectX 11 and 12 implementations are now based on Vulkan for compatibility and performance.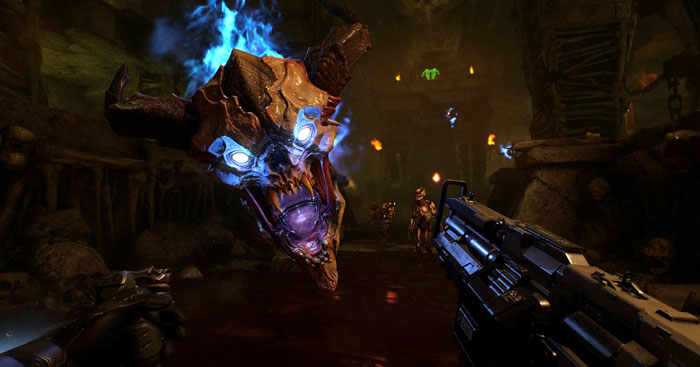 Significant improvements delivered in the Steam Play Beta are as follows:
Windows games with no Linux version currently available can now be installed and run directly from the Linux Steam client, complete with native Steamworks and OpenVR support.
DirectX 11 and 12 implementations are now based on Vulkan, resulting in improved game compatibility and reduced performance impact.
Fullscreen support has been improved: fullscreen games will be seamlessly stretched to the desired display without interfering with the native monitor resolution or requiring the use of a virtual desktop.
Improved game controller support: games will automatically recognize all controllers supported by Steam. Expect more out-of-the-box controller compatibility than even the original version of the game.
Performance for multi-threaded games has been greatly improved compared to vanilla Wine.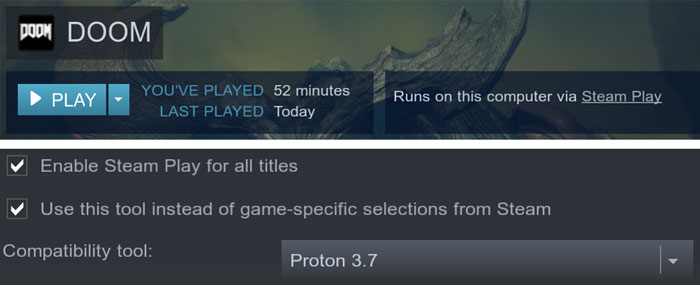 The experience provided to users is said to be as friendly and simple as installing regular Linux games. Valve allows users to try and play games that aren't on the white list and will be accepting votes on games support to implement in Steam Play. Performance may be a little slower than on a native Windows system, but this isn't always the case. It is noted that some games using complex DRM or anti-cheat systems "will be difficult, or even impossible to support".
The initial roster of white listed compatible games are as follows:
Beat Saber
Bejeweled 2 Deluxe
Doki Doki Literature Club!
DOOM
DOOM II: Hell on Earth
DOOM VFR
Fallout Shelter
FATE
FINAL FANTASY VI
Geometry Dash
Google Earth VR
Into The Breach
Magic: The Gathering - Duels of the Planeswalkers 2012
Magic: The Gathering - Duels of the Planeswalkers 2013
Mount & Blade
Mount & Blade: With Fire & Sword
NieR: Automata
PAYDAY: The Heist
QUAKE
S.T.A.L.K.E.R.: Shadow of Chernobyl
Star Wars: Battlefront 2
Tekken 7
The Last Remnant
Tropico 4
Ultimate Doom
Warhammer 40,000: Dawn of War - Dark Crusade
Warhammer 40,000: Dawn of War - Soulstorm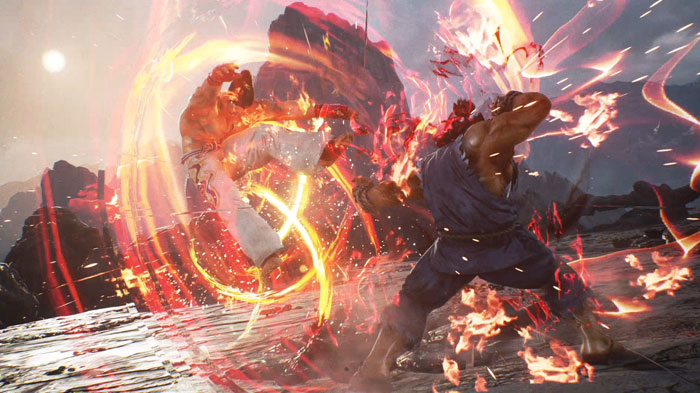 As well as making a list of Windows games compatible with Linux, another point of Steam Play is to allow future developers to easily leverage their work from other platforms to target Linux. Valve's improved Wine, Proton, is fully open source and available to download and build. Valve doesn't have any plans to support MacOS at this time, even though Wine and Proton work on MacOS.