Activision has announced the release date for the next Call of Duty, and provided a launch trailer and a smattering of game details. This time around Call of Duty: Black Ops 4 will ditch the single player campaign and instead focus on multiplayer. It has competitive multiplayer (including a last-player-standing battle royale mode), and a cooperative zombies mode set over three very different locations.

"Black Ops 4 doesn't have a traditional campaign, we're weaving narrative into each of the modes," said Mark Lamia, Treyarch chairman, during the staged announcement yesterday evening. The single player campaign seems to have been cut to devote resources to the greater number of multiplayer modes available.
The standout change this time is the inclusion of a last-player-standing mode called Blackout, to provide PUBG or Fortnite style gaming fun. However, players will of course be able to leverage Black Ops style combat mechanics, including air support, various CoD characters, Zombies, and maps from all four Black Ops games.
In its report on the game announcement, The Verge quotes an Activision source that indicated Call of Duty Black Ops 4 would be a side step in the series, and future outings would "return to the bombastic cinematic single-player modes players are used to".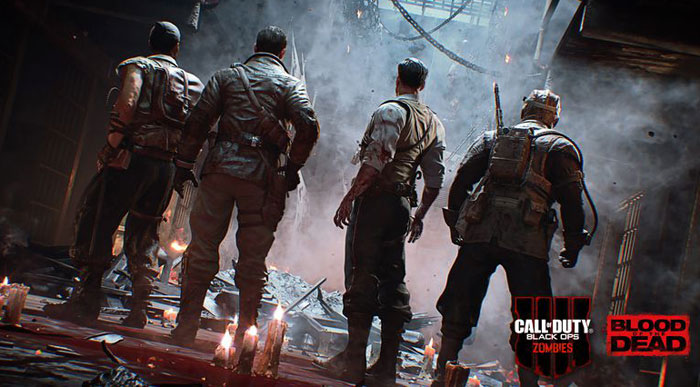 Zombie experiences are popular with players and Call of Duty Black Ops 4 will launch with three difference undead experiences. Thanks to the possibilities opened up by witchcraft you will be able to battle zombies in eras that appear to be linked to Roman Gladiator and Titanic eras…
On the PC, players will be able to enjoy features such as uncapped frame rates, and support for 4K resolution, HDR and ultrawide monitors. Weapon recoil and knockback for Black Ops 4 on PC was also designed for those playing with keyboard and mouse controls. "One of the things we've really wanted to focus on is PC gaming as its own unique platform, and really give PC gamers what they deserve," said Tryarch Studio Head Dan Bunting.
Call of Duty Black Ops 4 will be released worldwide on 12th October for PC, PS4 and Xbox One. Battlenet will be the exclusive distributor for Windows PC users.