A Hotline Miami 2 developer has given Australians the go-ahead to pirate the game in a response to the Classification Board's decision to refuse classification for the game, effectively banning the game from sale in Australia.
The game was not granted a rating due to featuring a graphic simulation of a rape and several acts of extreme violence. The Australian Board of Classification ruled that the title did not reach the "standards of morality, decency and propriety generally accepted by reasonable adults" and required of computer games. The ruling has disappointed game designer Dennaton Games and publisher Devolver Digital, who insisted the game's offending material has been misrepresented, and that it contains an option to remove any content with implications of sexual violence.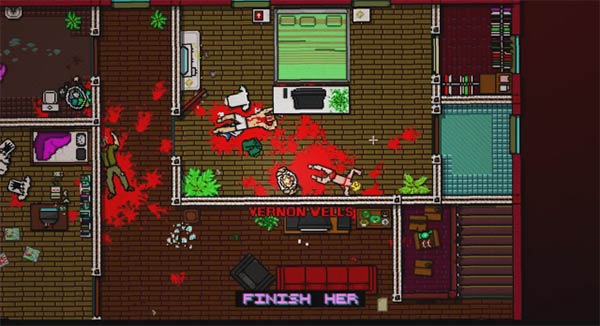 One of the grisly scenes in question
"We are concerned and disappointed that a board of professionals tasked with evaluating and judging games fairly and honestly would stretch the facts to such a degree and issue a report that describes specific thrusting actions that are not simply present in the sequence in question and incorrectly portrays what was presented to them for review," Devolver said in an official statement.
Following the studio's official statement, Jonatan Söderströmm, co-creator of Hotline Miami 2, was discovered to have suggested to Aussie's that they simply download a pirated version of the video game if it remains unavailable for them to buy. In a response to a concerned fan's email where the fan was seeking guidance on how to access the game, Söderström wrote:
"If it ends up not being release in Australia, just pirate it after release. No need to send us any money, just enjoy the game!"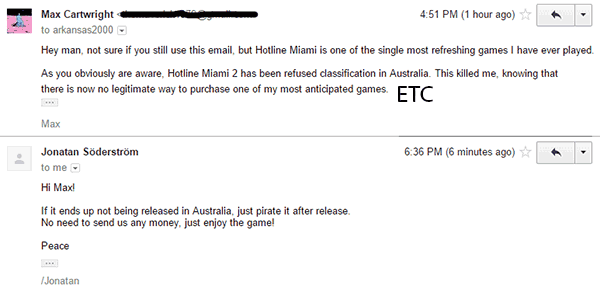 I chopped the email at 'ETC'
The email was verified as legitimate with the publisher of the game by Polygon. With no plans to challenge the ruling by the title's publisher, it is looking unlikely at this stage that Hotline Miami 2 will be officially released in Australia.
"Though we have no plans to officially challenge the ruling, we stand by our developers, their creative vision for the storyline, its characters and the game, and look forward to delivering Hotline Miami 2: Wrong Number to fans very soon," Devolver Digital wrote.
The video below shows a game clip with optional sexual violence scenes included/omitted, as per user request.