EA and Microsoft have teamed up and launched a new subscription service called EA Access, offering Xbox One users unlimited access to select titles in what the publisher calls 'The Vault' for $4.99 a month or $29.99 per year.
"At EA, we are always looking for new ways to make it easier for gamers to play more EA games across all platforms, and we are excited about what EA Access will offer to players on Xbox One," EA wrote in a blog post.

The service is currently being rolled out in beta to a limited number of players and is purported to be launching for everyone on Xbox One soon. The Vault currently contains just four of the company's biggest games including FIFA 14, Madden NFL 25, Peggle 2 and Battlefield 4.
EA promises more will be added to the collection, plus the subscription additionally gives members a 10 per cent discount on its digital download Xbox One titles, DLC and in-game currency through the Xbox Games Store. EA also promises 'Play First' early access to games and content, such as its already delayed Dragon Age: Inquisition with this subscription. However, the publisher does sneakily add in the small print (at the bottom of this page) that Titanfall is "excluded from all EA Access features".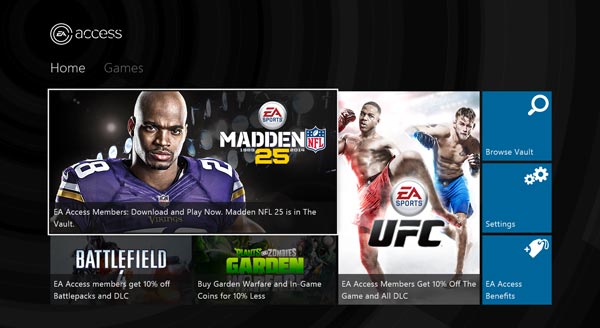 Your in-game progress on EA Access titles will carry over if you do decide to purchase the game after playing it on Access, which might be useful to some people. The membership subscription can be purchased through your Xbox One and is said to also be available through GameStop and Amazon soon in the U.S., Canada and Europe.
Is anyone interested in this subscription service for their Xbox One or even a possible future 'EA Access' subscription for PC?