Flappy Bird's Vietnamese developer Dong Nguyen has removed his game from mobile app stores today. He had warned of Flappy Bird's demise a day earlier but some thought the warning might be a publicity stunt to accelerate game downloads even further.
Flappy Bird first launched back in May 2013 for iOS. The simple game requires players to steer a bird between green pipes, tapping the screen to flap the bird's wings to gain height. It unexpectedly shot to the top of Apple's free game rankings earlier this year, around the time it was released for Android. Reports that the game raised $50,000 per day in advertising revenue with downloads of more than 50 million may have created more interest in its developer than what he was expecting.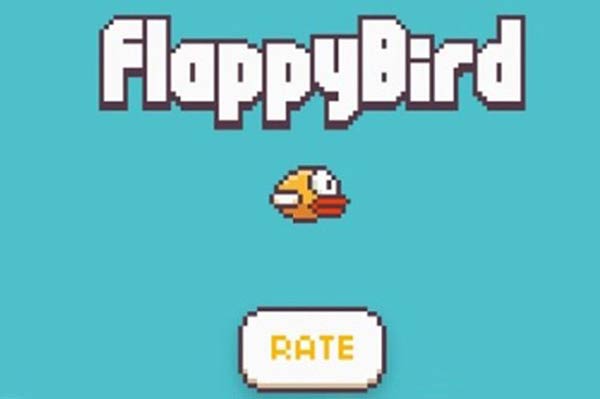 Simple controls but skill required
"The reason Flappy Bird is so popular is that it happens to be something different from mobile games today, and is a really good game to compete against each other," Nguyen said. "People in the same classroom can play and compete easily because it is simple to learn, but you need skill to get a high score."
Oddly the game's basic retro graphics and reportedly rock-hard difficulty level are thought to be the reasons behind its success. Even Apple's official App Store Twitter account Tweeted a high score of 99 earlier this week.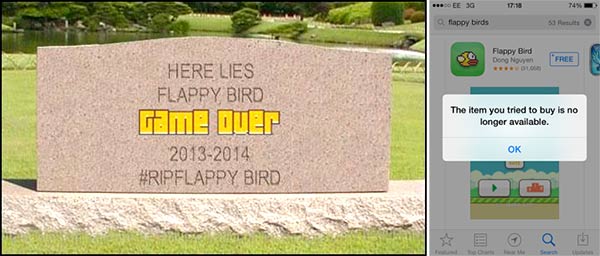 Developer carried out threat of nuclear option
Nguyen informed his followers via Twitter that Flappy Bird would be removed today due to the unwanted media attention he has received. We can predict many devastated fans as he has honoured his word and the app no longer exists in mobile app stores.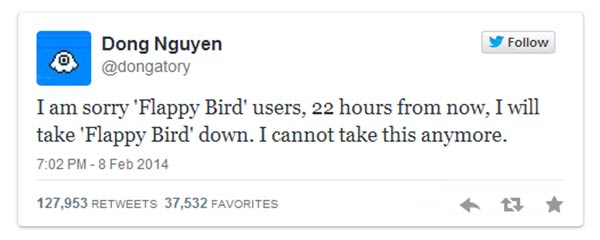 You can see Nguyen tire of the media attention and exhibit a kind of despair in his Twitter post history, saying; "I can call Flappy Bird is a success of mine. But it also ruins my simple life. So now I hate it". Later on he added "It is not anything related to legal issues. I just cannot keep it anymore. I also don't sell 'Flappy Bird', please don't ask. And I still make games," clarified Nguyen in follow up Tweets.
The game's number one chart spot triggered a procession of analysis, blog posts, reports, accusation of ranking exploits and many media outlet attempts to explain gamers fascination with the game. Those who have already downloaded the game on their devices will see the app continue to work and your hard-earned high score will not be reset.