AMD today announced new free games bundle permutations for purchasers of the Radeon HD 7800 and Radeon HD 7900 series of cards. The new bundles, a follow-up to last year's Never Settle games bundle are entitled Never Settle: Reloaded.
The new bundles offer a good selection of popular and yet-to-be-released modern PC blockbuster games titles which should shine on your new Radeon graphics hardware. Every bundle announced includes a copy of BioShock Infinite but the other games vary depending upon which graphics card(s) you buy. Buying the top of the range Radeon HD 7990 GPU or any two other members of the Radeon HD 7900 Series could net you all six games on offer in the EMEA regions; Crysis 3, Bioshock Infinite, Tomb Raider (2013), Sleeping Dogs, Hitman Absolution and FarCry 3.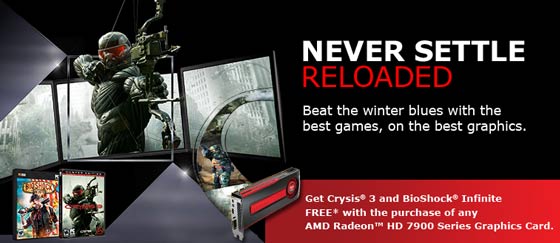 The "Never Settle: Reloaded" bundle offers the following game permutations:
Game Title

AMD Radeon™ HD 7900 Series
(WW)

AMD Radeon™ HD 7800 Series
(NA, EMEA, AUS, NZL, KOR)

Purchase two AMD Radeon™ HD 7900 Series

(NA & EMEA only)

AMD Radeon™ HD 7990 GPU

(NA & EMEA only)

Crysis® 3 Download Code

X

X

X

BioShock® Infinite Download Code

X

X

X

X

Tomb Raider®
Download Code

X

X

X

Sleeping Dogs™ Download Code

X

X

Hitman: Absolution™ Download Code

X

X

Far Cry® 3
Download Code

X

X

X
Anticipated release dates for the above unreleased games are as follows: Crysis 3 – February 19, 2013, Tomb Raider – March 5, 2013 and BioShock Infinite – March 26, 2013. "Game releases may be delayed for reasons that are out of the control of AMD."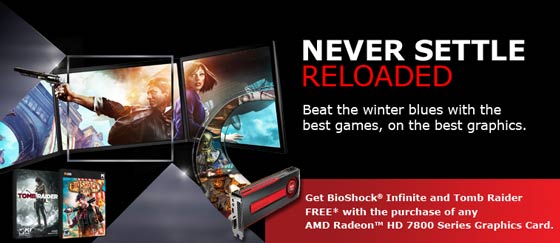 Matt Skynner, corporate VP and general manager of AMD Graphics said of the new bundle, "The Never Settle: Reloaded bundle clearly stands apart from anything else in the market. Gaming has always been, and will remain, the core of the AMD Graphics strategy and success. In 2013, we plan to forge greater inroads into the gaming industry and it begins with packaging this year's biggest games with the best graphics hardware from AMD."
The press release accompanying the Never Settle: Reloaded bundle explains that in 2013 "AMD plans to further reinforce its position as an industry-leading graphics provider by focusing on four critical pillars. The first pillar is content..." and that is where these games come in.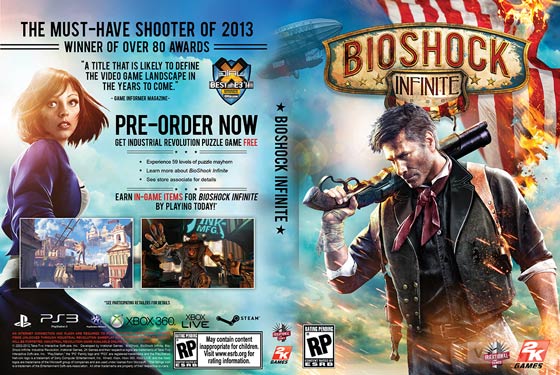 Last year AMD's Never Settle bundle included three of the above games (Farcry 3, Sleeping Dogs and Hitman: Absolution) and it was a popular promotion with resellers like Newegg in the US. "After the success of last year's Never Settle Bundle, we are thrilled to see AMD, yet again, offer 2013's most anticipated PC games packaged with their award-winning graphics cards to our customers," explained Soren Mills, chief marketing officer of Newegg North America.
Coupon codes are required to download the games bundle owed to you, following your purchase of one or more of the qualifying AMD HD 7800/HD 7900 graphics cards. The coupon comes from the reseller, so make sure of the coupon availability when making your purchase. Never Settle: Reloaded coupon codes must be redeemed on the AMD Redemption portal. The promotion spans from now until 31st December 2013. (or from 22nd January until 31st December 2013 for Radeon HD 7850 or AMD Radeon HD 7870 purchasers from participating retailers)