Gearbox software is indulging in some very cool marketing and promotional efforts in the run up to the launch of gaming sequel Borderlands 2. Anyone with a browser and a flash plugin will be able to play a Borderlands de-make, indie retailers have a Top Trumps pack and games journalists have received a press pack with a copy of "The Border Lands" in full 16 bit PC gaming livery.
The 16 bit de-make
While you wait patiently for the Borderlands 2 launch on 21st September (18th September in USA) Gearbox has provided an online 16-bit de-make of the title The Border Lands to help you kill some time. The blurb on the page says "Borderlands wasn't always the slick, handsome bastard of a game it is today! Go old skool and play the 1989 16-bit original to see how it all began."The game plays in your flash plugin equipped browser in an old TV frame. Controls are with your keyboard arrow keys and the space bar. The game plays in a top down perspective, and you can direct your shots in a different direction to your character's movement a bit like the old Williams Robotron game but with Borderlands characters. Sadly it doesn't play as smoothly as that old classic. Play The Border Lands 16-bit original here.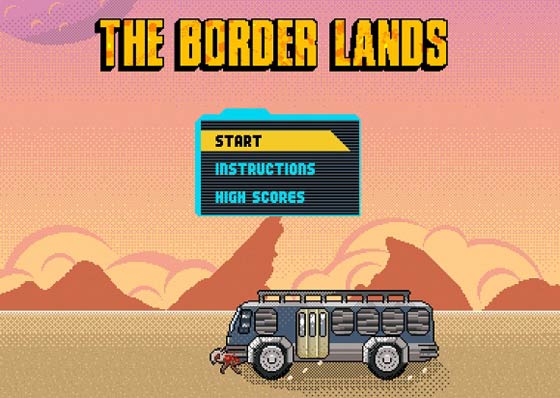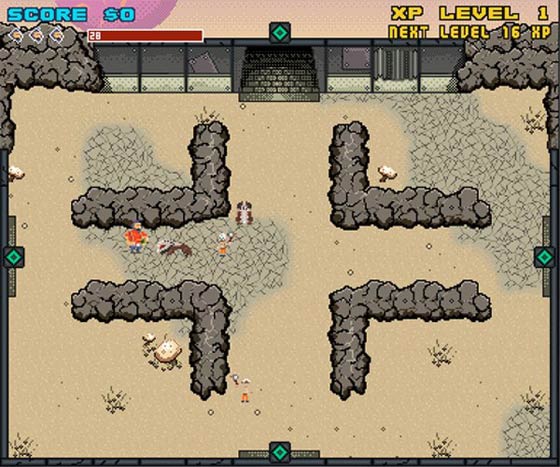 Top Trumps
A limited edition of Borderlands Top Trumps cards are being produced to accompany the game launch at UK "indie video games stores" according to The Independent. Speaking to the newspaper Ben Lawrence of 2K Games said "Only 5000 packs of cards will be distributed across the country and will be available on a first-come-first served basis to those who pre-order Borderlands 2" The playing card pack will feature Borderlands 2 weapons and is subtitled "The Guns Guns Guns Pack". This is a nice way to support indie games stores and get people into the shops.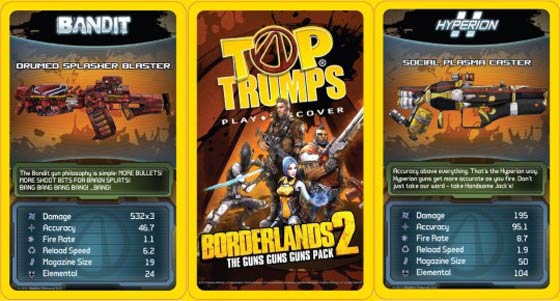 Lovely press pack
Lucky gaming journalists (like the guys at MCV) will have just received their "The Border Lands" press pack. This pack contains an original oversized cardboard box printed with graphics recalling that era. Inside the box is the game on floppy disk with an accompanying USB floppy disk drive! The game is the same as the online version but this "highly collectible exclusive re-issue of the 1989, 16-bit original" is a great collector's item for fans of Borderlands. Perhaps some "super duper ultimate" retail version will include this promotional stuff for paying customers.