AMD has written to HEXUS about a couple of hotly anticipated new games; Borderlands 3 and Tom Clancy's Ghost Recon Breakpoint. As well as sharing the PC recommended spec to play these games at popular monitor resolutions, AMD has outlined the various Radeon options and features gamers from the red team will be able to enjoy.
Borderlands 3
Gearbox has published a blog post about its PC specs reveal. The image below shows the minimum and recommended PC specs to play. As it doesn't make it clear, the minimum specs PC is targeting 1080p gaming, while the recommended specs system targets 1440p gamers.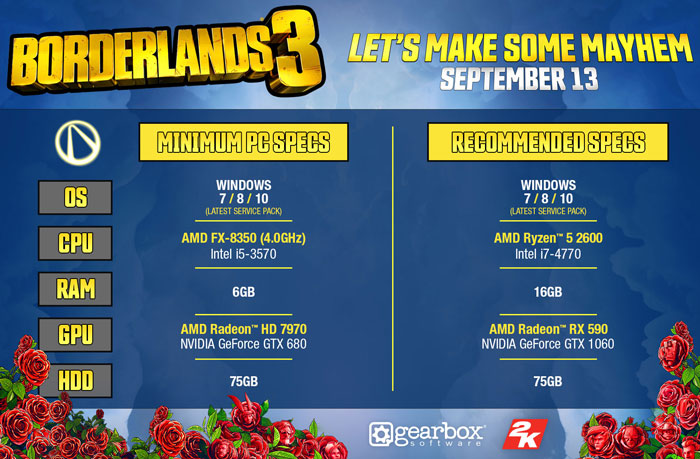 PC users will get to fine tune the graphics within the game selecting and toggling options for graphics API, window mode, V-Sync, resolution scaling, frame rate limiting, FOV, HUD scale, and loads of graphic quality related settings.
In its email to HEXUS, AMD adds that "Borderlands 3 is optimized for AMD Radeon graphics cards, including ones based on the new RDNA gaming architecture, providing breathtaking visuals, amazing performance, ultra-responsive, silky smooth gameplay, and exciting features". It bullet points the following AMD features supported in Borderlands 3:
ASync Compute GPU multithreading
AMD Fidelity FX dynamic sharpening filter
AMD Radeon FreeSync 2 HDR Technology
Multithreading of Command Buffers, which is designed to ensure "more traffic from the AMD Ryzen processor reaches the AMD Radeon graphics card faster for higher performance, better graphics and reduced latency".
Borderlands 3 will be released as an Epic Store exclusive (6 months) on Friday, 13th September.
Tom Clancy's Ghost Recon Breakpoint
Ubisoft has penned a blog post outlining PC exclusive features and recommended specs for Tom Clancy's Ghost Recon Breakpoint. Again, the developers have created a natty infographic specs list - but this time there are a greater number of permutations catered for - low and high settings, and resolutions up to 4K.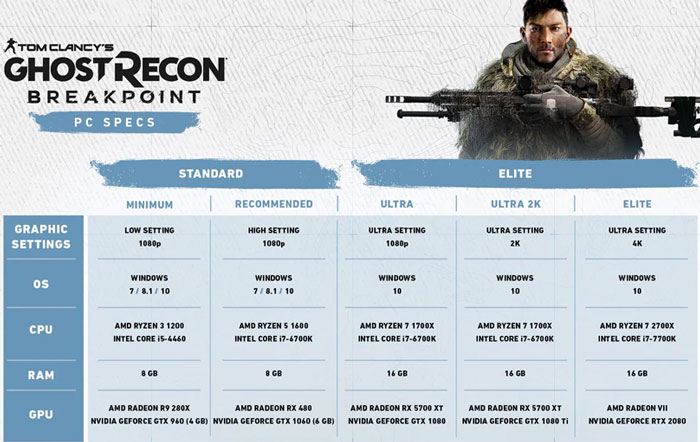 In its email to HEXUS, AMD says that this Ubisoft game supports its FidelityFX dynamic sharpening filter too. It asserts that "FidelityFX delivers significant improvement in image clarity, counteracting the softening caused by other post-process effects." Meanwhile, all PC gamers will benefit from the following:
Full PC optimization
Uncapped frame rate
Ultra-wide and multi-monitor support
Fully customizable controls
Discord integration
Gameplay and menu eye tracking with Tobii
Tom Clancy's Ghost Recon Breakpoint launches 4th October, but there is a closed beta from 5th September (pre-order / Uplay+ bonus).