A Chinese theme park based on the hit puzzle game, Angry Birds, has caused developer, Rovio, to get all in a flap.

The Chinese company has taken the Angry Birds name without permission and created a theme park, dubbed "The Real Version Of Angry Birds," challenging visitors to use a real slingshot to launch toy birds into the air to knock down structures and pop bird-shaped balloons. Rather than sue the company involved, however, Rovio is taking a rather novel approach by asking the patrons of the park whether they'd like to team up in a long-term partnership to help make the attraction a success.

Initially, the theme park was only going to open for one month and was designed for people to let off stress, but Rovio representatives based in China have agreed to discuss a long-term plan which may see the park remain a permanent attraction in the city of Changsha.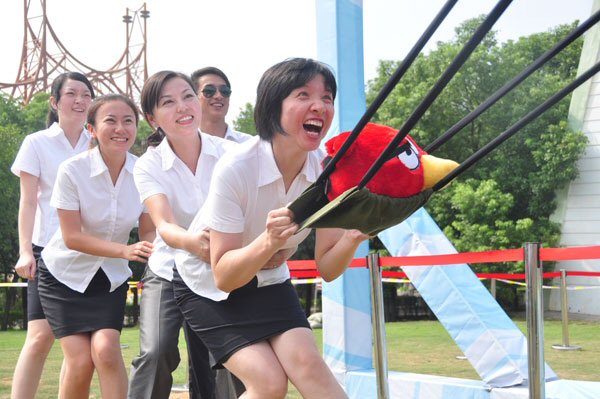 The partnership would be the latest move by Rovio to turn Angry Birds into an entertainment phenomenon, not just a videogame. Having sold millions of copies world-wide and been awarded the best-selling app on the Apple Store in 2010, Rovio wants to branch out into other areas to maximize profit. Maybe an Angry Birds park in every town would help us all to relieve a bit of stress?