HEXUS reported upon the unveiling of the PlayStation Classic mini console last month. However this latest entrant to the retro mini console fray wasn't fully revealed and a particular query on many people's minds concerned what titles would be included in the full lineup of 20 games re-installed. Only five were revealed in the launch publicity; Final Fantasy VII, Jumping Flash, Ridge Racer Type 4, Tekken 3, and Wild Arms.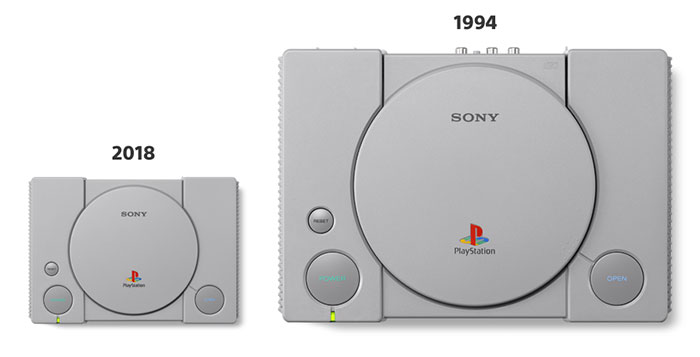 Below you will find the full alphabetical list of 20 games that will be pre-loaded, as shared today by the official US PlayStation Blog. I've put an asterisk next to the five pre-announced titles for your convenience.
Battle Arena Toshinden
Cool Boarders 2
Destruction Derby
Final Fantasy VII*
Grand Theft Auto
Intelligent Qube
Jumping Flash*
Metal Gear Solid
Mr Driller
Oddworld: Abe's Oddysee
Rayman
Resident Evil Director's Cut
Revelations: Persona
Ridge Racer Type 4*
Super Puzzle Fighter II Turbo
Syphon Filter
Tekken 3*
Tom Clancy's Rainbow Six
Twisted Metal
Wild Arms*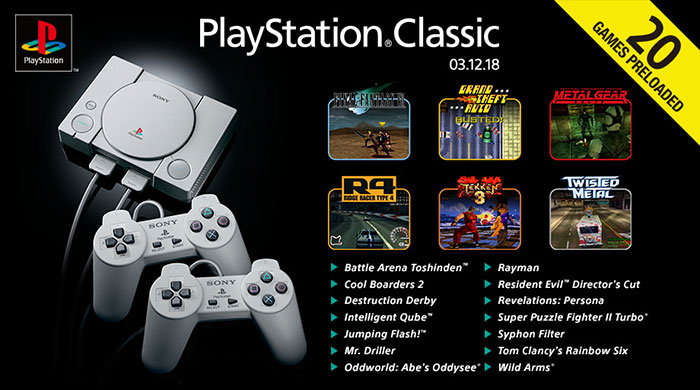 There are indeed some additional quality titles amongst the newly revealed full list. Metal Gear Solid has been long revered, and other highlights might be the original GTA, Resident Evil Director's Cut, and Super Puzzle Fighter II Turbo, depending upon your taste. For me, the earlier versions of Ridge Racer were my favourites and Wipe Out with the original soundtrack, plus Die Hard Trilogy would have made the console more interesting.
As a reminder, the PlayStation Classic will be released in plenty of time for Xmas, on 3rd Dec. Regional pricing is $99.99 USD / $129.99 CAN / €99.99 EUR / £89.99 GBP. It includes two original style wired controllers with USB connectors for local multiplay, an HDMI cable and a USB cable. We still don't know if extra games can be added somehow.