Epic Games is the first major games graphics engine maker to add support for Vulkan. To demonstrate its prowess on portable and mobile devices Epic was at the Samsung Galaxy Unpacked event showcasing what mobile games may look like in the future. Watching the 'experience' demo it seems like the Vulkan API compatible UE4 combined with the powerful new Samsung Galaxy S7 smartphone is capable of some impressive real-time 3D graphics.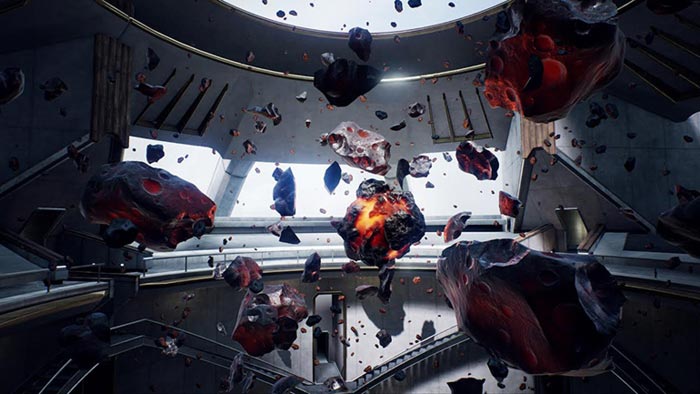 "The new industry-standard Vulkan API brings key elements of high-end console graphics technology to mobile devices, and Samsung is leading the way with the amazing new Galaxy S7," Epic Games CEO Tim Sweeney said in a statement. "As the first engine supporting Vulkan, Unreal Engine 4 provides a solid foundation for developers joining in the mobile graphics revolution".
The video embedded above shows the real-time ProtoStar demo in action. If you take a look you can see that the demo showcases fluid sci-fi scenes containing many objects, elements, and particles with plenty of visual effects such as reflections, full scene anti-aliasing and more. You can watch the video full screen at 1080p to get more of a gist of the quality offered by this mobile demo.
According to Epic, the full list of UE4 rendering achievements on mobile, shown in the ProtoStar demo are as follows:
Dynamic planar reflections (high-quality reflections for dynamic objects)
Full GPU particle support on mobile, including vector fields
Temporal anti-aliasing (TAA)
High-quality ASTC texture compression
Full scene dynamic cascaded shadows
Chromatic aberration
Mobile dynamic light refraction
Filmic tone-mapping curve
Improved mobile static reflections
High-quality mobile depth of field
Vulkan API support with thousands of dynamic objects onscreen
As a reminder, the Samsung Galaxy S7 includes a 'water-cooling' system (heatpipe) to prevent throttling in demanding apps, it also has a no-alerts setting so you can game uninterrupted and the ability to record and stream gameplay footage. In some regions those who pre-order the Galaxy S7 will receive a free Gear VR headset.
Nvidia SHIELD Android TV
In other Vulkan news, Nvidia is delivering Android Marshmallow updates to its SHIELD Android TV boxes and it is to become "the first Android consumer platform to ship with support for the new-generation Vulkan graphics API".
Just a week after the 1.0 Vulkan API specs were published, Nvidia is making fully conformant Vulkan drivers available to Android developers. We are also told that Google has announced that Vulkan will be a core platform API in a future version of Android to drive new classes of interactive user experiences. In coming weeks/months Nvidia SHIELD Android TV users will hopefully start to experience the benefits of the Vulkan API in games and apps making better use of the device's processor and Maxwell GPU.