Globe-trotting adventure set for Summer
Announced by Lucas Arts last year, LEGO Indiana Jones: The Original Adventures will combine the original cinematic adventures that enthralled audiences everywhere with the tongue-in-cheek humour of the LEGO series.

Due for release in May, in conjunction with the new adventure film, Indiana Jones and the Kingdom of the Crystal Skull, the latest title in LEGO's illustrious history promises some comical representations of classic Indiana Jones scenes as well as a fully interactive environment, where LEGO characters will be able to swim, climb and shimmy across ledges in true Indy style.

The game follows the story of the first three films, that's Indiana Jones and the Raiders of the Lost Ark, Indiana Jones and the Temple of Doom and Indiana Jones and the Last Crusade.They'll be 18 levels, consisting of 6 levels for each of the three films and they'll be famous scenes such as when Indy escapes the rolling boulder or when he flees from the Nazis (who won't be donning Swastikas) in the Last Crusade.

Like all of Lucas Art's LEGO games there will be plenty of puzzles to solve and Indy will sport his signature whip to help him on the way, allowing him to activate levers and interact with objects in the environment. Indy's whip can also be used for attacking and disarming opponents, although he'll also have access to a variety of other weapons, including chairs, guns, swords and bottles.

Lucas Arts tell us that they'll be 60 playable characters in the game and the list includes: Marion Ravenwood, Short Round, Rene Belloq, Willie Scott, Marcus Brody, Jones Senior and Mola Ram . Many of the characters will have character specific abilities, such as Satipo's excavation skill, Brody's Umbrella slide and Ravenwood's monkey access.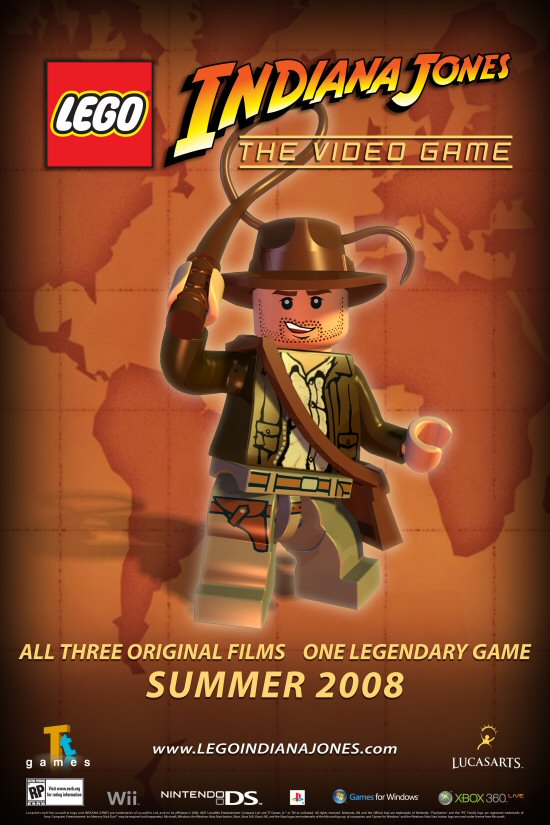 In addition, we'll also be able to create unique characters, such as Sallah Scott or Mola Round by mixing and matching the LEGO body parts of all playable characters.

Four player Co-op mode has also been confirmed, although reports suggest that many of the puzzles will only require two people to solve them.

That's all the details we have for now, but there's not long to wait now before you try it out for yourselves.