Big-screen Experience
After spending some quality time with the VW550ES it becomes clear that the compromises traditionally associated with projector image quality have been eroded by modern advances in technology. Sony's ability to deliver impressive brightness, surprisingly deep blacks and superb clarity at such a size is an admirable feat, and every single viewer to have sat in front of the image has been left mesmerised.
The tremendous level of detail, especially at 4K, is a feast for the eyes, and we've also been impressed by the projector's competence in upscaling regular HD content - sure, you're going to get some noise when viewing non-4K content at this scale, yet a regular Blu-ray is still thoroughly enjoyable.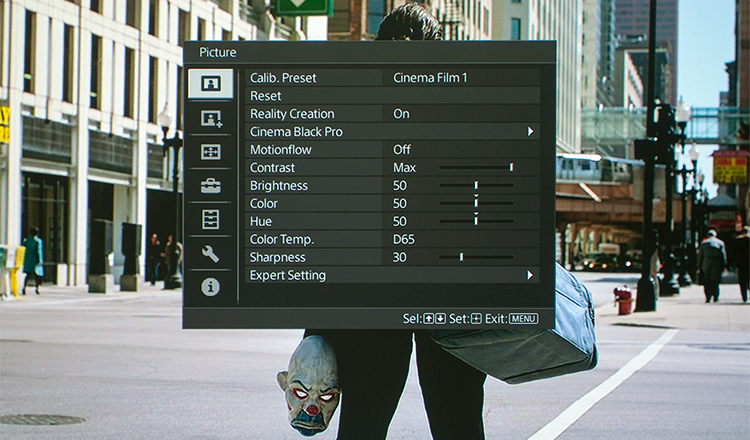 Brightness of 1,800 lumens helps deliver HDR content to good effect, and though you won't quite get the deep blacks or eye-popping colours associated with OLED TVs, there's enough contrast to make HDR feel worthwhile. One area in which the projector certainly succeeds is its tendency to deliver life-like colours and motion. Many TVs, particularly in their out-the-box state, struggle to deliver a natural picture whereas the VW550ES just happens to look right.
So stunning is the image that in order to make the most of it you can't help but shift from what you want to watch to what you ought to watch. And herein lies a bit of a dilemma. High-end TVs and projectors have both come a long way, yet content trails behind. The majority of broadcast TV channels here in the UK still aren't HD, 4K UHD Blu-rays are pricey and few and far between, and you could argue that it is streaming services that are pushing the HDR revolution. Streaming and quality aren't exactly renowned bedfellows, yet while there's inevitable compression, Netflix content in 4K HDR looks immense.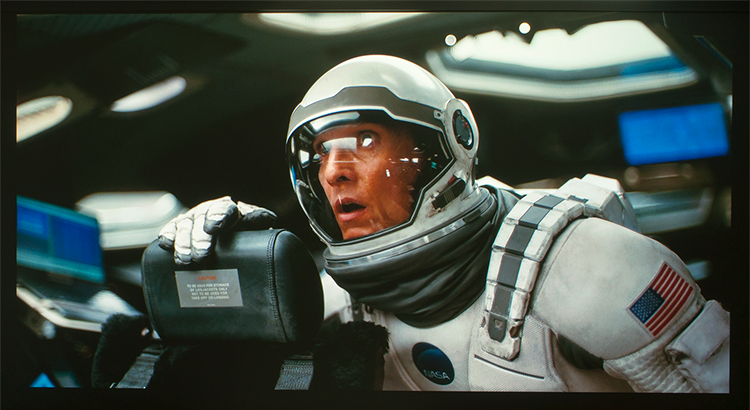 Our pictures don't quite do the projector justice - it has to be seen to be believed - however there are a few caveats that you won't see listed on the box. Power consumption was measured as a considerable 360 watts when viewing 4K HDR content, and the front-facing fans are constantly at work trying to expel the heat being generated. You can feel the warm air being poured into the room and the fans are noticeable - they generate a constant hum so as not to be too intrusive, but the noise is nonetheless bothersome during quiet scenes.
Consider a cabinet or hush box for the best experience, and also be aware that the lamp inside the VW550ES isn't likely to last as long as a TV. Sony officially rates the lamp as good for 6,000 hours of viewing and a replacement will set you back somewhere in the region of £500. A small price to pay for movie nights that are etched into your retina.
Summary
...Sony's premium £9,900 solution delivers a jaw-dropping image oozing with enough detail to win over the most fervent projector naysayers.

There's only one thing better than sitting down with friends and family on a Friday night with a cold beer ready to watch a good movie, and that's getting ready to watch it on a Sony VPL-VW550ES projector.

Demonstrating that the lines between TV and projection are being blurred with each new release, Sony's premium £9,900 solution delivers a jaw-dropping image oozing with enough detail to win over the most fervent projector naysayers.

Bottom line: The price tag remains a serious hurdle, but if you have both the means and the space, the VW550ES expertly juggles 4K, HDR, deep blacks and natural colours to deliver a truly immersive home-cinema experience.

The Good

The Bad

Native 4K and HDR
Excellent HD upscaling
HDMI 2.0 with HDCP 2.2
User-friendly controls and motorised lens
Convincing blacks and impressive contrast
Image size dwarfs any current TV

£9,900 price tag
Fan noise can be bothersome
High power consumption




Sony VPL-VW550ES




HEXUS.where2buy

The Sony VPL-VW550ES Home Cinema Projector is available to purchase from Peter Tyson and Richer Sounds.

HEXUS.right2reply

At HEXUS, we invite the companies whose products we test to comment on our articles. If any company representatives for the products reviewed choose to respond, we'll publish their commentary here verbatim.