Introduction
Projector or TV? That's the ultimate question for any movie buff, and I've got to be honest, I've always preferred a TV. The ease of installation, combined with superior brightness, contrast and colour are key considerations, and having thoroughly enjoyed a 50in Pioneer Kuro for the past decade, I've assumed that a 60-70in OLED would serve as a natural progression somewhere down the line.
But I'm always open to suggestions and when Sony offered to send in one of its latest 4K HDR projectors, the VPL-VW550ES, I was intrigued to see whether or not I could be persuaded to switch from TV to projector. After a few weeks of viewing, I'm not only convinced, but my trusty Kuro - once the benchmark for all TVs - now seems comparatively inadequate.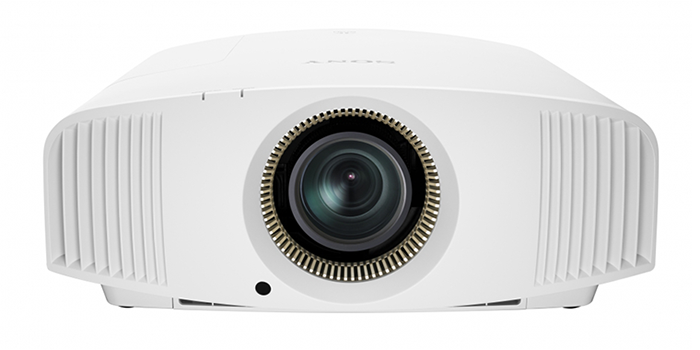 The revelation shouldn't come as too great a surprise, as the Sony VPL-VW550ES is a serious piece of kit. It costs a jaw-dropping £9,900 and is no shrinking violet. Dimensions come in at 495.6mm x 195.3mm x 463.6mm and the projector weighs 14kg, so don't expect it to blend seamlessly into your living room.
Projectors as bold as this are ultimately designed for home-cinema installation, yet given the price point, we're a tad surprised Sony hasn't taken the opportunity to refresh the chassis. It's the same basic enclosure that has been used before, and though it now comes in a choice of black or white, we'd argue it isn't befitting a projector of this ilk - the plastic lens-cap, for example, is a pain to remove and doesn't feel at home on such a premium product.
Headline Features
The VW550ES might not be the most beautiful piece of kit to look at, yet it does deliver some of the most beautiful images we've ever seen in a home environment. The specification sheet, which boasts a true 4K (4,096x2,160) resolution and support for HDR, is powered by the same Sony SXRD panel technology used in cinemas and offers plenty of enthusiast appeal.
Sony claims a contrast ratio of 350,000:1 as well as a brightness of 1,800 lumens, giving the VW550ES enough clout to deliver credible high-dynamic-range content, and with the ability to recognise compatible source material the projector will automatically go into HDR mode when necessary. Looking ahead, Hybrid Log-Gamma (HLG), a HDR system developed for broadcast television, will be supported, but Dolby Vision will not.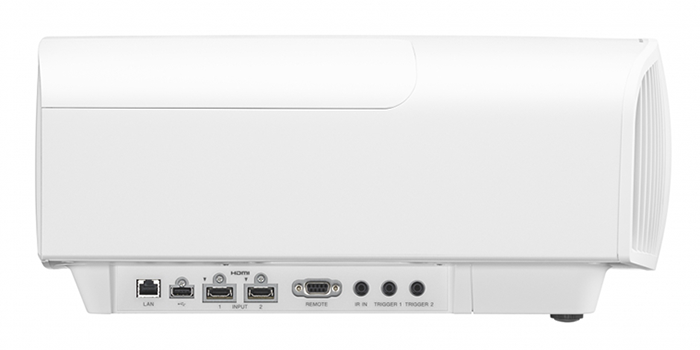 3D playback is available for anyone persevering with three-dimensional content, though, even at this price point, no RF 3D glasses are included as part of the bundle. As expected on a high-end Sony solution, various optional processing technologies are at hand to tweak the picture if necessary. Motionflow can be used to add frames and reduce blur in fast-paced scenes, Reality Creation does an excellent job of upscaling regular HD content, and switching to the Game preset enables a low-latency mode for sub-30ms response times.
Connectivity has also been improved for this model, as users now have two HDMI outputs that are HDCP 2.2 compliant and able to deliver 10-bit 4K at up to 60 frames per second. Joining the HDMI ports on the projector's right side are LAN and USB ports for software updates, RS-232 for home automation, an IR input for a hardwired remote and a pair of 12V triggers.
Setup
A key differentiator in the TV vs. projector debate is ease of use, and no matter which way you look at it, the latter requires a lot more work. Sony's VW550ES can support an image size of between 60in and 300in, but placement requires careful consideration, as your projector, playback device, speaker system and screen all need to be married together.
The good news for those with an optimal room layout is that built-in auto calibration takes away a lot of the guesswork, and a motorised zoom lens with a shift range of up to 85 per cent vertical and 31 per cent horizontal makes it easier to find the sweet spot.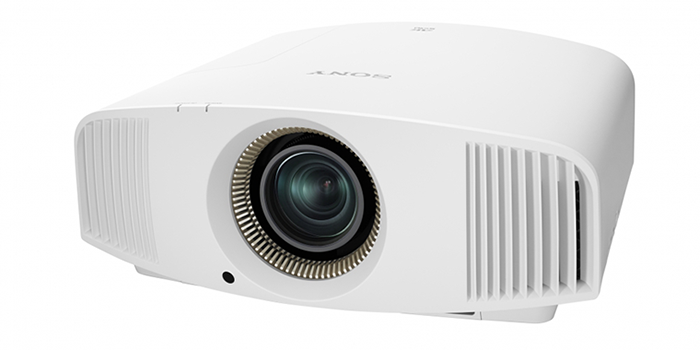 Sony's lens is both precise and responsive, reacting quickly to minor adjustments, and proves handy for maintaining the correct aspect ratio or changing picture size based on usage scenario. I prefer to game at, say, 80in to keep the action within my field of view, and then switch to 120in on movie night. Up to five zoom lens presets make the switching process hassle free, and there's something inherently satisfying about seeing your picture size increase significantly prior to a movie.
IR sensors front and back ensure that the bundled remote control is always within range, and the remote is both backlit and logically laid out with the user-adjustable presets arranged neatly near the top. Film 1 is our preferred preset for movie playback, Game is self-explanatory, and Bright TV works well for everyday viewing in a lighter environment. The VW550ES works reasonably well on a white wall, even during daylight hours, but to get a true feel for its capabilities you'll want a suitable screen and a dark environment.