We are on tenterhooks awaiting official details of the new Samsung Galaxy Note. Samsung has teased the launch of the Note7 at an Unpacked event in New York 11am EDT / Rio at noon / London at 4pm tomorrow. However, as we await the launch and further official details on what is traditionally an exceptional and capable cutting edge smartphone, the inevitable leaks have come.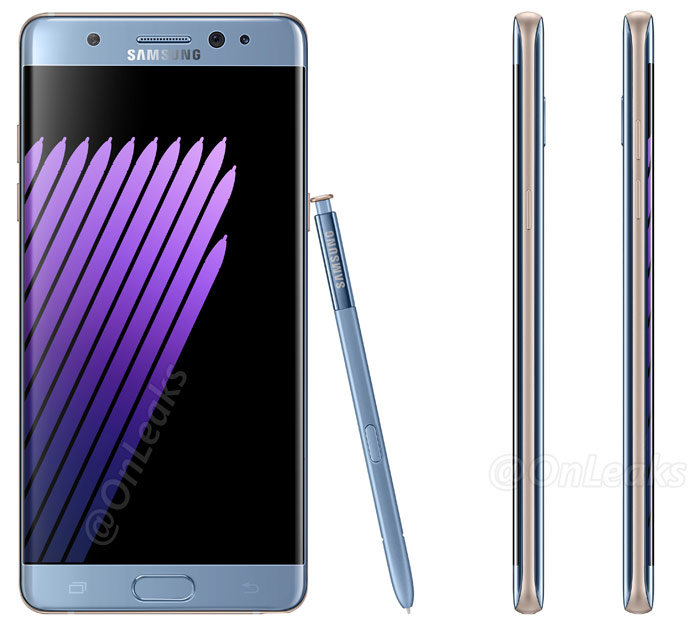 Over the weekend some nice clear press shots came to light via the usually reliable @OnLeaks and nowhereelse.fr showing the Note7 in various colours from a multitude of angles. Plus, a nice bonus is the additional shot of the updated Galaxy Gear VR headset.
According to the latest information the Samsung Galaxy Note7 will offer the following specs:
Super AMOLED 5.7-inch 2560x1440px display
Snapdragon 821 or Exynos 8893 chip
4GB RAM
64GB fixed storage + microSD expandability
Dual Pixel 12MP main camera (f/1.7) with OIS, 5MP selfie camera
S Pen with 4096 levels of pressure sensitivity and <50ms latency
USB Type-C
3500mAh battery
Physical: 153.5 x 73.9 x 7.9mm, 168g
Android Marshmallow 6 with TouchWiz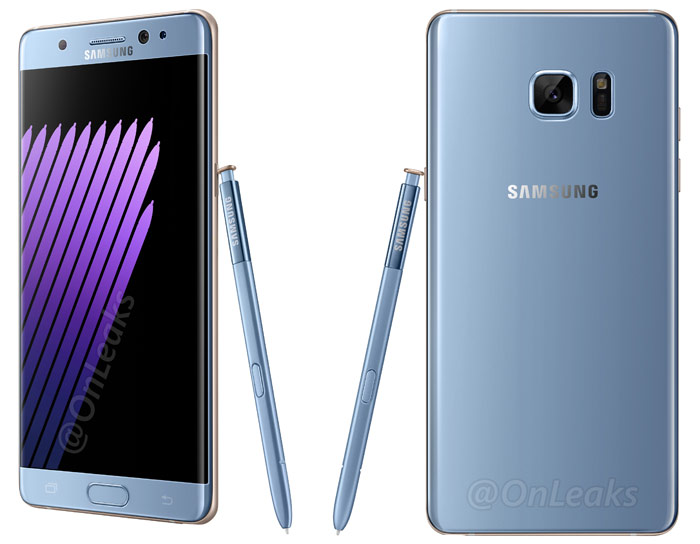 For your ocular pleasure I've embedded a selection of pictures of the (Blue) Note7 in this article.
A new Gear VR headset looks set to launch alongside the Note7. This has a matching USB Type-C port but is said to be backwards compatible with the Galaxy S6 line and the previous Note5 phablet. It doesn't look to offer any expanded features, just refinements.
Specs of the new Gear VR are claimed to be as follows:
207 x 122 x 98.5mm size
300g weight
USB Type-C
FOV expanded to 110 ° (old version offered 96 °)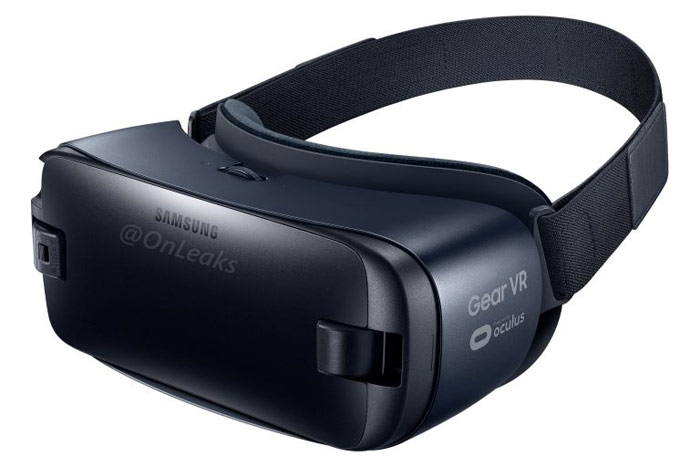 Interestingly we get some Euro prices and availability from nowhereelse.fr; the Note7 will be released in early September at around €850, the Gear VR will be available later this month at about €90.