Samsung has sent out press invites for a 'Galaxy Unpacked' event to be held on 1st March in Barcelona. As has been customary in recent times the big guns in mobile all try and capture early headlines ahead of the start of the Mobile Word Conference (MWC) in Barcelona which starts on 2nd March. Samsung has a penchant for obscure teaser images, as you can see below. What do you make of it?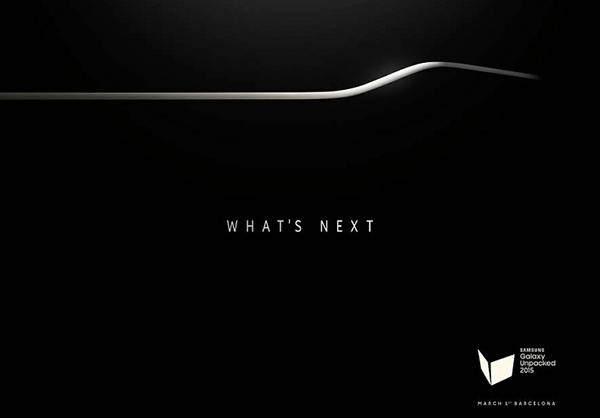 It is expected that the Samsung Galaxy S6 smartphone will be Samsung's biggest announcement on the day and at the following MWC show proper. Over the previous couple of months we've already seen some details about this smartphone leak out. In December we heard about some rumoured key specifications of the upcoming flagship thanks to a shipping manifest and an AnTuTu benchmark emerging. Last month we heard that Samsung had dropped the Qualcomm's Snapdragon 810 SoC powered variant due to overheating problems in testing.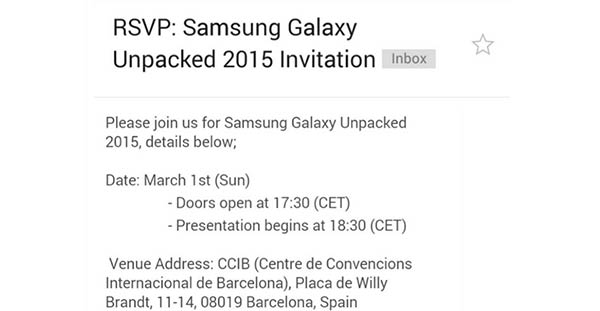 Turning to design speculation the overall consensus seems to be that the Samsung Galaxy S6 will have at least one curved edge to its screen - like the Samsung Galaxy Note Edge – or even a wrap around screen on both left and right edges. However that wrap around edge might be reserved for a model called the Galaxy S Edge while the regular S6 is a traditional flat screen design – drawing a parallel to the Note 4/Edge launch a few months ago.
How that teaser image atop of the article ties in with any kind of wraparound screen design – I don't know. The line in the image looks like a bezel reflection and if the bezel were that shape it would sport a screen curved in a completely different way.
Already some price indications are emerging for SIM-free Samsung Galaxy S6 smartphones. Samsung specialist publication SamMobile reports that the S6 32GB, 64GB and 128GB versions "might cost 749 euros, 849 euros and 949 euros respectively". Meanwhile Galaxy S Edge models could be priced at 949 euros and 1049 euros for 64GB or 128GB of built-in storage respectively.