As heavily hinted at and expected Samsung unveiled the Galaxy Note 4 smartphone yesterday at IFA Berlin. The Korean tech giant also had a couple of surprises in store including the Galaxy Note Edge, with a display that wraps around one of its edges, and the introduction of the Gear VR headset with John Carmack making a guest appearance.
Samsung Galaxy Note 4
Samsung's newest Note phablet is here. This represents an evolutionary improvement on its predecessor with tweaks firmly made in areas where Samsung sees the most consumer interest and upgraded hardware here and there.
Let's start by looking at the screen. The Note 4 uses the same 5.7-inch sized screen as its predecessor but it now boasts 2560 x 1440 pixels. Samsung says the new screen will help users make more effective use of multi-window multitasking and also improve visual quality.
The S Pen, one of the key features of the Note range, gets tweaked again. Samsung says there is "a much more authentic pen experience," with users being able to benefit from better pen feedback. The popular Air Commands, introduced last year, are also said to be "more user-friendly," and expanded to include Action Memo, Screen Write, Image Clip and Smart Select.
Samsung seems to want to benefit from the selfie trend and, to complement the Note 4's 16 megapixel rear-facing camera, has equipped this device with a 3.7 megapixel front-facing camera with a dedicated selfie button ergonomically placed around the back of the smartphone. Selfie portraits can be drastically expanded with a new 'Wide Selfie' function. Both cameras are said to have upgraded sensors that are "able to reproduce brighter and clearer images".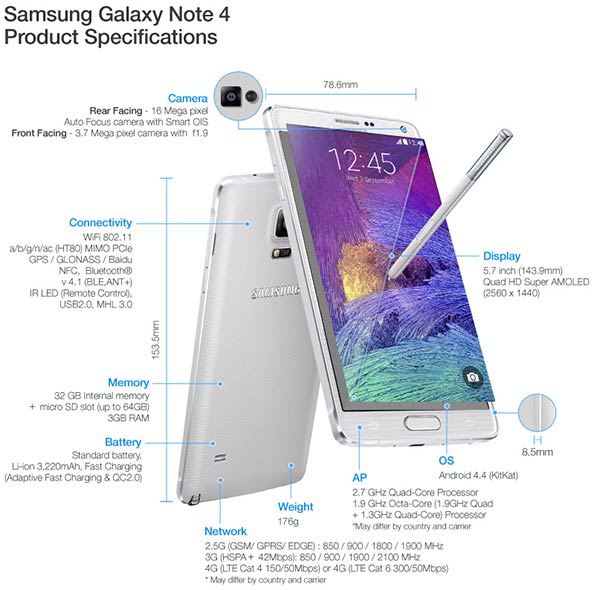 For key hardware specs of the Samsung Galaxy Note please refer to the diagram above.
Samsung Galaxy Note Edge
We have seen this wrap around screen tech paraded by Samsung before and now here it is in an actual product. The Galaxy Note Edge shares a lot of the headline specs with the Note 4 but the new screen is the star attraction here. While the Super AMOLED display is a smidgeon smaller than the one on the Galaxy Note 4 it still boasts 2560 x 1440 pixels on its front aspect plus a 2560 x 160 pixel strip on the right edge of the phone chassis.
What is the use of this strip of screen? Samsung has worked to make it useful and brainstormed lots of functionality into this wraparound display. The 'Edge Screen' has a 'Revolving Display' which can offer up status messages, tickers, shortcuts, media controls and more. The display is said to be useful when the smartphone is in its closed cover, allowing users to see notifications without opening their phone for example.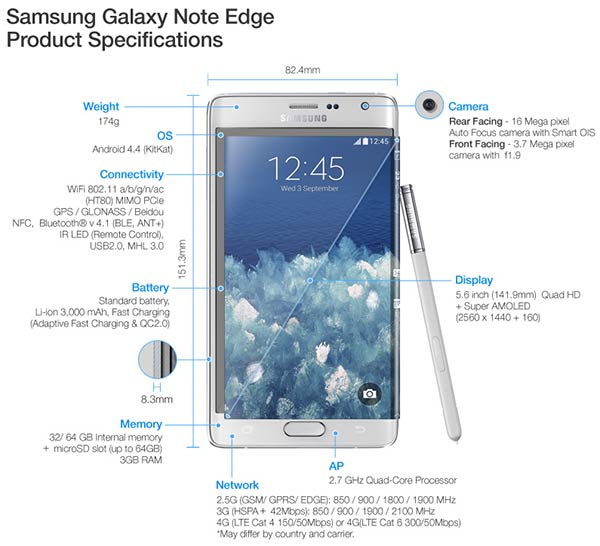 Samsung Gear VR
Samsung also revealed the Gear VR headset which makes use of the new Note 4's hardware and stunning display. Samsung teamed up with Oculus to create this headset and John Carmack joined the Samsung presenters on stage during the two hour long UnPacked event.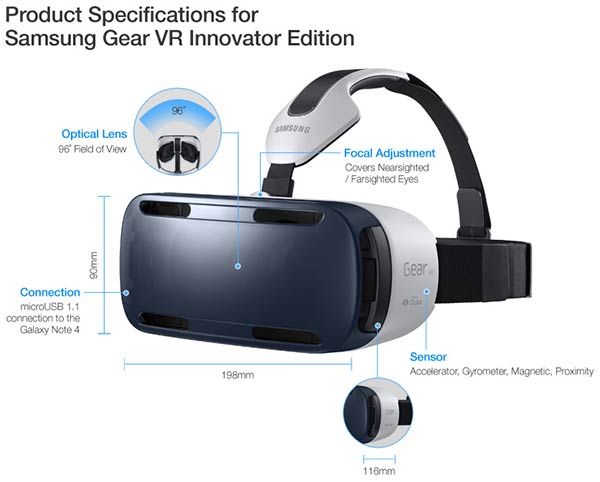 Talking about the collaboration Carmack said "The deep technical partnership with Samsung has enabled us to create a virtual reality headset with world class resolution and performance, all on a completely mobile platform." Samsung says its comfortable, completely wireless solution will enjoy a "robust selection of optimized virtual reality content from a wide range of top-tier creators," including games, films and educational content. The Gear VR will be available later this year.
Samsung also launched its third generation smartwatch, the Gear S. It benefits from Samsung's curved screen tech making its 2-inch screen more ergonomic for wrist wear. This device can work completely standalone and runs Samsung's Tizen OS. If you are interested please check out Samsung's promotional video below.