When we first introduced the Samsung GALAXY Beam back at the Mobile World Congress, honestly, we didn't expect it to come to market any-time soon, the device was too different, too strange, too conceptual. However, Samsung has pushed ahead with the intriguing hybrid and the device is now available for pre-order on the Orange network, for release on July 16th.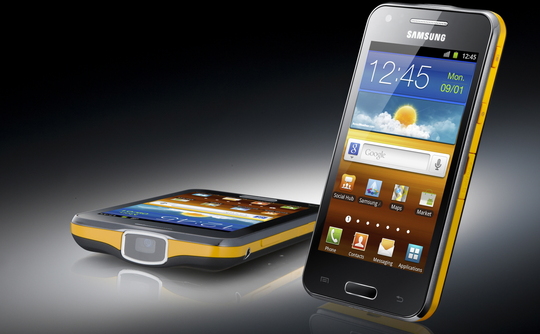 For those that require their memories jogging, the Beam features a fairly standard, 1GHz dual-core ARM Cortex-A9 CPU with a basic Mali-400 GPU to provide graphical grunt. Memory is nothing special at 768MB and everything else about the device is fairly standard; however, the device houses a secret. Not to be confused with Android Beam NFC, Samsung's GALAXY Beam features a built-in pico-projector, offering a 640 x 360 15 lumen projection, capable of reaching size of up to 50 inches.
If you'd like this device for free, you can head on over to Carphone Warehouse's website, with prices begining at £31 per month, which offers 400 minutes, unlimited texts and 750MB of internet browsing.