Yesterday evening @EVleaks, AKA Evan Blass, shared a series of beautifully clear images of a purported Motorola Razr smartphone. His images showed the upcoming "reinvented" foldable from various angles and in various degrees of flex. Furthermore, some front and inner screen UI elements and on-screen display shots were among the leaked set of promotional images.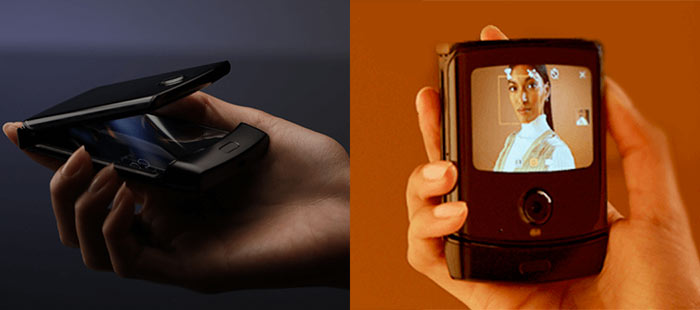 On first impression the images show that Motorola has gone all-out to emulate the appearance of the classic Razr v3. The design has the smaller outer screen and built in camera above a significant 'chin' area. From the side it looks a lot like the original too. However there are of course plenty of modern accoutrements.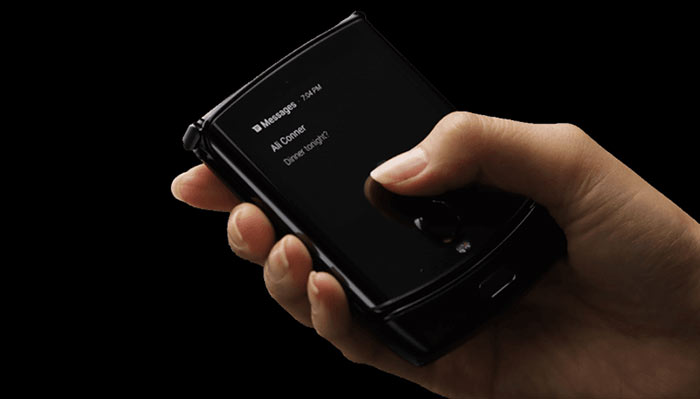 Starting from the outside you can see that the screen is much bigger and appears to be a touch-screen. The camera unit appears to be far more substantial - it creates a bump, which might help reduce front screen scratches, and is accompanied by a flash. Moving down to the chin area and a lozenge shaped button is present, and it may double as a fingerprint reader. On one side we see what looks like a volume rocker and a textured power button. Top, bottom and rear views haven't been included in the image leaks, so answers remain about the charger port location, headphone jack etc.

The new Razr's outer screen appears to show a status bar, clock/weather widget, and a quartet of app shortcuts by default. An OLED always on or glance display would be useful here. One of the shots appears to show the front screen being used to read a test that has come in - however we don't know if you can respond to it without flipping open the mobile. Another shot with this small outer screen in play shows it being used for taking a selfie, with facial recognition and other smart effects in use.

Flipped open there is not a lot to say, the revealed display is all screen with very thin bezels - except for the chin of course. This display features a notch, which appears to be used for a speaker and a small camera / sensor lens.
Motorola officially launches its next gen Razr on 13th November at a fancy event in LA. If we don't find out the hardware specs before then they should surely be shared during this "highly-anticipated unveiling of a reinvented icon".