The Moto G range of smartphones "redefined the smartphone market in 2013," claims Lenovo, and many would agree. The idea was the deliver capable smartphones with some premium-a-like features at affordable prices. These low-to-mid range devices also earned a reputation for timely OS updates. Now, Lenovo has launched a quartet of new Moto G phones, the Moto G7 family.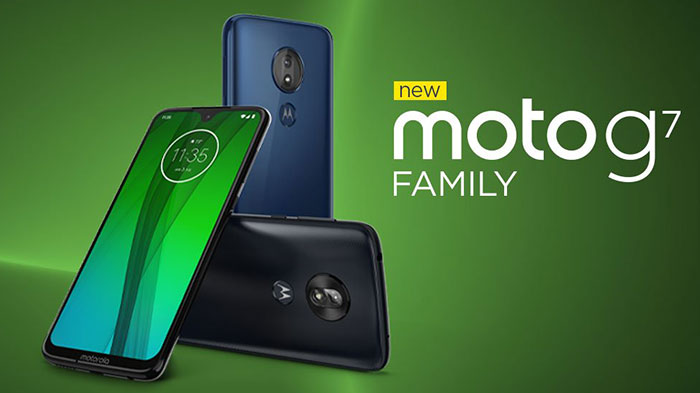 At the top of the pile in terms of features and pricing is the Moto G7 Plus (£269). It is based around a 6.2-inch IPS LCD with 2270x1080 pixels. Inside this device Lenovo packs the Qualcomm Snapdragon 636, and either 4GB/6GB of RAM and 64GB/128GB of storage. Its particular strength among this new G7 range is in photography. The rear camera in the G7 Plus is a dual 16MP system with optical image stabilisation.
Moving down the line you will next see the regular Moto G7 (£239). It is the same size and weight (more or less) as the 'Plus' model but its £30 price reduction sees quite a few cuts. The screen seems to be the same as with the G7 Plus but it has a lower spec rear camera, lower MP selfie camera, a Snapdragon 632, and there is no option for more than 4GB of RAM or 64GB of storage. The headline appeal for this design is that it is claimed to be 50 per cent faster than the previos gen 'standard'.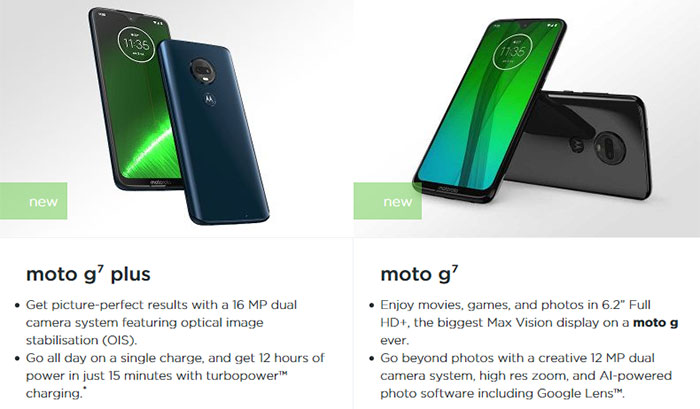 Lenovo majors on battery life with the appropriately named Moto G7 Power (£179). The screen remains a 6.2-incher but the resolution is tuned down to 1520x720 pixels. 3GB of RAM and 32GB of storage is built-in, but as with the whole range you can add a microSD card. A single 12MP camera is round the back with an 8MP selfie cam on the front. Of course its raison d'être is the battery, which offers 5,000mAh capacity. It is USB-C Turbo charger compatible, as are all these phones. I think that due to the battery this is the heaviest phone in the range at 198g but it is not excessively weighty.
Lastly, the Moto G7 Play (£149) comes with a smaller IPS (720p) screen at 5.7-inches in diagonal. It is powered by the Snapdragon 632 1.8GHz octa-core - the same as the G7 and G7 Power. Built-in memory is 2GB RAM - a bit cramped nowadays - and 32GB of storage. This is the smallest and lightest of the range at 148.7 x 71.5 x 8.2 mm and 151g.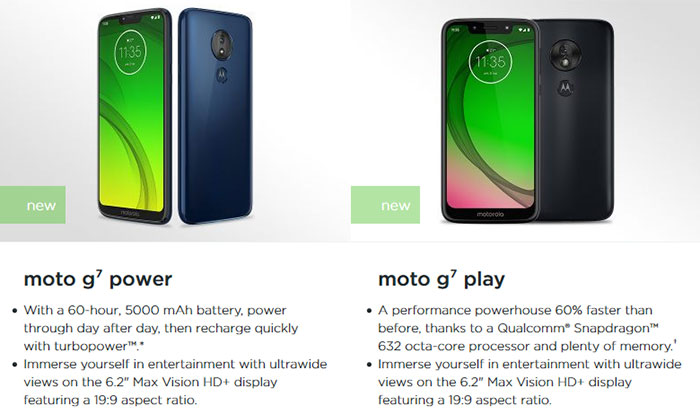 Whichever phone you choose you get a modern 'notchy' look, a quick fingerprint sensor, Android 9.0 Pie, and the usual Moto experiences such as Quick Capture, Fast Flashlight and Attentive Display.
Lenovo provided HEXUS with the following UK pricing and availability details:
The moto g7 plus will be available in the U.K from 1st March at Carphone warehouse and E.E with a starting RRP of £269
The moto g7 will be available in the U.K from March 1st at Amazon with a starting RRP of £239
The moto g7 power will be available in the U.K from 1st March at Carphone warehouse, E.E, Vodafone, John Lewis, Tesco and other participating resellers with a starting RRP of £179
The moto g7 play will be available in the U.K from 1st March at Vodafone, Tesco, John Lewis and other participating resellers with a starting RRP of £149
Specs:
Moto G7 Play

Moto G7 Power

Moto G7

Moto G7 Plus

Operating System

Android 9 Pie

Android 9 Pie

Android 9 Pie

Android 9 Pie

Display

5.7-inch IPS LCD
1512x720
19:9 aspect ratio

6.2-inch IPS LCD
1520x720
19:9 aspect ratio

6.2-inch IPS LCD
2270x1080
19:9 aspect ratio

6.2-inch IPS LCD
2270x1080
19:9 aspect ratio

Processor

Snapdragon 632 1.8GHz octa-core
Adreno 506 GPU

Snapdragon 632 1.8GHz octa-core
Adreno 506 GPU

Snapdragon 632 1.8GHz octa-core
Adreno 506 GPU

Snapdragon 636 1.8GHz octa-core
Adreno 509 GPU

Storage

32GB

32GB

64GB

64/128GB

Expandable

Yes

Yes

Yes

Yes

RAM

2GB

3GB

4GB

4GB / 6GB

Rear Camera - Main

13MP, ƒ/2.0

12MP, ƒ/2.0

12MP, ƒ/1.8 Dual Autofocus Pixel

16MP ƒ/1.7, OIS

Rear Camera - Secondary

N/A

N/A

5MP (for depth)

5MP (for depth)

Video

1080p @ 30 fps

1080p @ 30fps

4K @ 30 fps

4K @ 30 fps

Front Camera

8MP
selfie light

8MP

8MP

12MP

Connectivity

802.11 a/b/g/n 2.4 GHz + 5 GHz
Bluetooth 4.2

802.11 a/b/g/n 2.4 GHz + 5 GHz
Bluetooth 4.2

802.11 a/b/g/n/ac 2.4 GHz + 5 GHz
Bluetooth 4.2

802.11 a/b/g/n/ac 2.4 GHz + 5 GHz
Bluetooth 5.0

Battery

3000mAh

5000mAh

3000mAh

3000mAh

Charging

USB-C
10W TurboPower charging

USB-C
10W TurboPower charging

USB-C
15W TurboPower charging

USB-C
27W TurboPower charging

Water resistance

Water-repellant nano-coating

Water-repellant nano-coating

Water-repellant nano-coating

Water-repellant nano-coating

Security

Fingerprint sensor (rear)

Fingerprint sensor (rear)

Fingerprint sensor (rear)
Face unlock

Fingerprint sensor (rear)
Face unlock

NFC

No

No

No

Yes

Dimensions

148.7 x 71.5 x 8.2 mm

159.4 x 76 x 9.3 mm

157 x 75.3 x 8 mm

157 x 75.3 x 8.3 mm

Weight

151g

198 g

172 g

176 g

Audio

Front speaker

Front speaker

Front speaker

Stereo front speakers

Colours

Starry Black, Deep Indigo

Marine Blue

Ceramic Black, Clear White

Deep Indigo, Viva Red