Samsung has shared invites for its upcoming Galaxy Unpacked event on Thursday 9th August, 2018. While the firm isn't explicit about what to expect, it has published an image and a video showing close-ups of a golden S Pen stylus. Therefore one can expect that a new Note device will be launched, likely to be dubbed the Samsung Galaxy Note9.
Earlier last week the Samsung Galaxy Note9 was observed passing through the FCC. However, that did little more than confirm the device exists. In a more interesting reveal, a Russian site called Mobile Review, via BGR, claims to have had extensive hands on time with the new Note9. That report points to the following key specifications:
Processor: Snapdragon 845 in USA / Exynos International
Display: brighter Super AMOLED panel
RAM: 6GB/8GB
Storage: 64GB/256GB/512GB
Rear Camera: Dual 12MP cameras with variable aperture, improved OIS
S Pen: adds Bluetooth support for greater smart device integration
Battery: 4,000mAh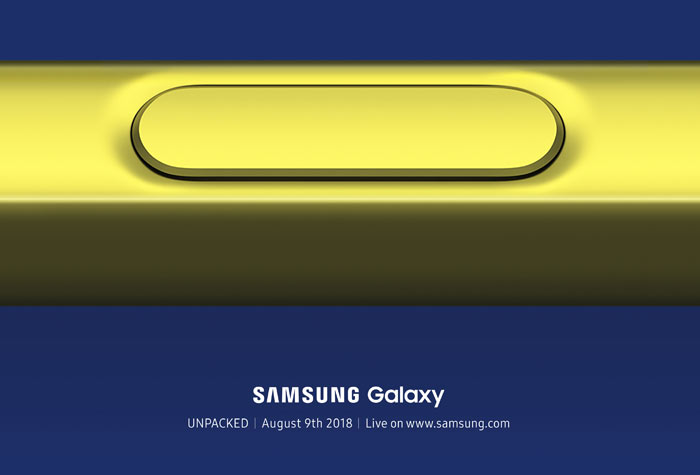 Another set of leaks on Twitter indicate that the S Pen button will be useful for tasks such as a remote shutter button, long range self timer, music control, and other tasks not obviously meant for a stylus.
The Samsung Galaxy Unpacked event will be available to watch live on the Samsung global news site, and elsewhere. Samsung is usually pretty efficient at following up with full product pages and videos focussing on all the aspects of new flagship smartphones. I've owned three previous Samsung Galaxy Note handsets so will be watching this launch with interest.