Samsung launched the new flagship Galaxy S smartphones on the eve of MWC 2018. There were few surprises embodied in the new Galaxy S9 and S9+. What was shown on stage, and in the plethora of feature videos, was very much an incremental update on last year's S8 and S8+ models. Samsung's own intergenerational comparison page makes this clear. The greatest design effort seems to have been put into the cameras on the new models, as paid testament by the Nine of the Galaxy S9's Most Exciting Features blog by Samsung (3 or 4 of which are imaging features).
Starting with the basics, the new Galaxy S9 and S9+ are more or less the same size as last year's models. They boast exactly the same screens as last year; 5.8-inch and 6.2-inch curved Super AMOLED QHD+ screens. The new phones are more or less the same size as the old ones too, just a few grams heavier and half a millimetre thicker. Any extra mass and thickness isn't down to the battery, as they have the same capacity as last year too (3,000mAh and 3,500mAh respectively).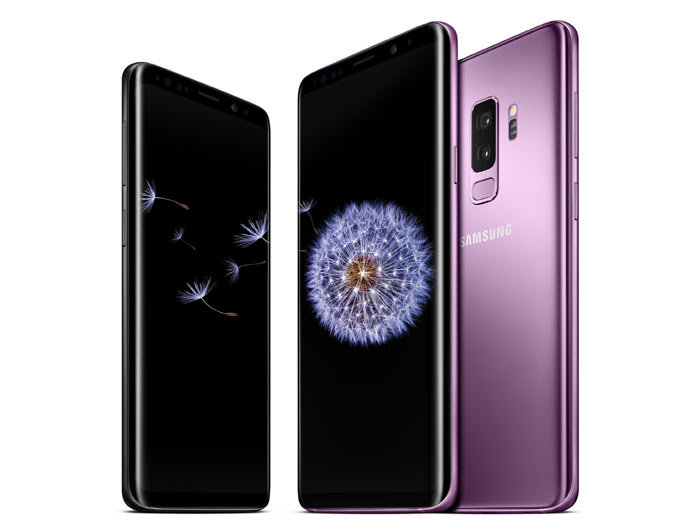 Checking off other similar things; the processors are similarly configured 10nm 64-bit Octa Core models but with higher clock speeds and newer architectures. Memory remains at 4GB RAM, but the new models come with more built-in storage options (64/128/256GB) plus microSD up to 400GB. Both new and old handsets are IP68 rates and can be used for NFC and MST payments. Networking gets an uplift to LTE Cat 18 (from Cat 16). The new 'Intelligent Scan' security feature is just an adaptive blend of "the collective strength of iris scanning and facial recognition technology." The repositioning of the fingerprint scanner might be a welcome tweak for some.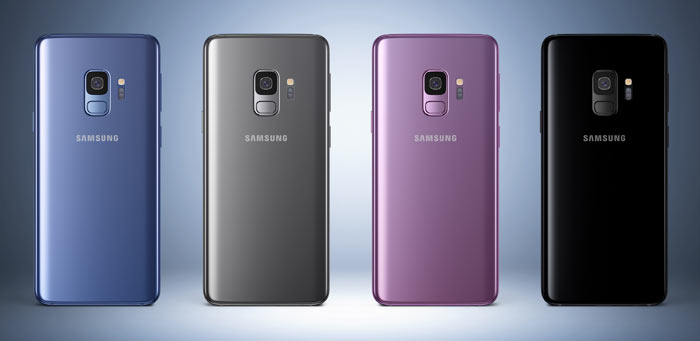 Considering features with greater divergence - audio has had a premium upgrade, thanks to stereo speakers tuned by AKG. The speakers are located in the bottom and the earpiece area. For greater immersion there is also a Dolby Atmos effect for 360-degree surround sound.
Other features Samung has drawn our attention to include; AR Emoji which project your emotions onto a personalised 3D avatar, more Bixby features such as Live Translation, and the new DeX Pad for enjoying a full screen PC experience powered by your smartphone.
The new cameras
The most significant changes are delivered by the imaging prowess of the new Galaxy S9 and S9+. If you remember back to the teasers, this event was advertised as a reveal of "The Camera. Reimagined", so Samsung has to deliver here. Samsung's Galaxy S9 has a super speed dual pixel 12MP rear camera with OIS and variable aperture (f/1.5 and f/2.4) on its rear. The f/1.5 aperture is heralded as the best on any smartphone for better photography in low light situations.
With the latest Galaxy S generation the Plus model gets even better camera hardware. Samsung's Galaxy S9+ has a pair of 12MP cameras on its back, one with an f/1.5 wide-angle lens with Super Speed Dual Pixel image sensor, and another with an f/2.4 telephoto lens. Both lenses have OIS.
The Galaxy S9 mobiles are capable of Super Slow-mo video of up to 960fps - claimed to be four times slower than any rival. Resulting clips can be shared as GIFs and/or saved as animated wallpaper, should you wish.
Pricing and availability
Those wishing to be among the first to own a new Samsung Galaxy S9 or S9+ can pre-order from 2nd March, with devices shipping from 16th March. Depending upon your region you will be able to choose from Midnight Black, Titanium Gray, Coral Blue and a new hue, Lilac Purple. The Galaxy S9 and S9+ devices will be priced from $720 and from $840 respectively in the USA.
Here in the UK, Carphone Warehouse have emailed me to say SIM-free handset costs are from £739 and £869 respectively. They are accepting pre-orders now, with delivery to customers by 9th March.