A clear packaging shot, claimed to be of the back of a Samsung Galaxy S9 box, has confirmed many of the device's key specs. In addition there are some more recent device photos and insights to Samsung's upcoming flagship Galaxy S9 to share since our last story a month ago.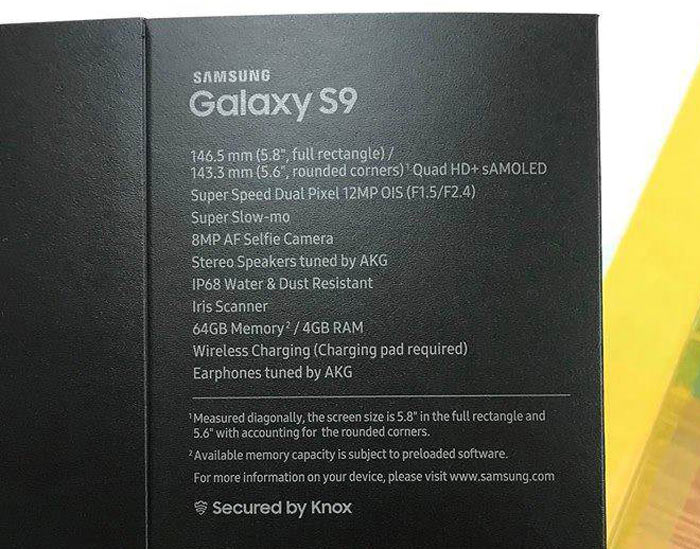 Above you can see the back of the Samsung Galaxy S9 packaging, as headlined. The specs begin with a breakdown of the device size rather than the screen size but it is confirmed that the 5.6-inch screen offers a Quad HD resolution (1440 x 2960 pixels, 18:9) and is of the Super AMOLED type.
Picking through the rest of the specs perhaps the most interesting things is the main camera. As explained by Digital Photography Review, the camera likely comes with the same stabilized variable aperture 12MP camera as the China-only W2018 flip-phone. In this case the camera "switches between F1.5 and F2.4 when it senses there's enough light around in an attempt to capture the background as much in focus as possible". An f/1.5 aperture is faster than any current smartphone and, with OIS too, will appeal to those who take many of their images in low-light.
Imaging improvements aren't limited to stills. Samsung has bumped up video fps recording speeds to enable 'super slow-mo' shooting. That's an interesting feature for creative video uses and there are even YouTube channels dedicated to this type of video.
In other specs we expect there to be versions of the Galaxy S9 powered by the Exynos 9 Series 9810 and by the Qualcomm Snapdragon 845. Base versions will come packing 4GB of RAM and 64GB of storage. It is expected that the Plus versions will come as standard with 6GB of RAM, and will differentiate further with a dual-lens rear camera system.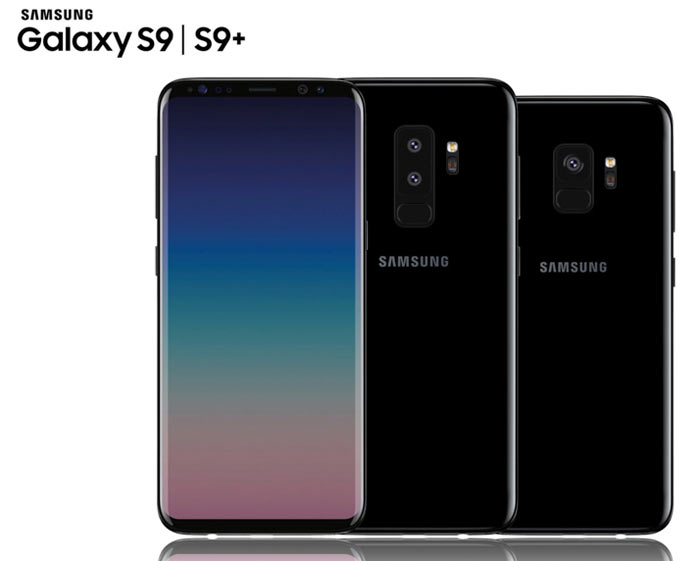 Last week Samsung Mobile boss DJ Koh confirmed that the Galaxy S9 will launch at Mobile World Congress in February. Device availability, and hopefully the pricing, will be revealed at that event. The Galaxy S9 (SM-G960U) and S9 Plus (SM-965U) have recently appeared on the FCC website.