Samsung has just launched the Galaxy S8 and S8+ flagship smartphones. For those who have been watching the numerous leaks ahead of today these mobiles don't hold much in the way of surprises. They are nevertheless desirable tech objects with tweaks and improvements over many of the predecessor S7 and S7 Edge mobiles from last year. Standout features in the new smartphones depend on your own perspective, but for me they are; the larger infinity displays, the Bixby AI, the DeX desktop experience, new 10nm SoCs, and iris recognition arriving to bolster the fingerprint security.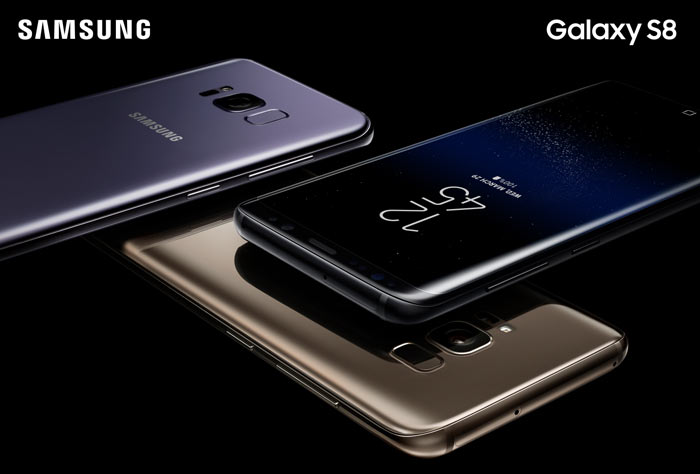 A good way to get up to speed with what the new Galaxy S8 and S8+ offer is to compare them to the known quantities of the S7 and S7 Edge from last year. Thankfully Samsung makes this simple with a blog post infographic offering a direct spec comparison between generations. Of course hardware isn't the only story here Samsung's new mobiles also pack impressive new software in the form of the aforementioned Bixby, DeX, plus more. The video below does a good job of showing you the highlights in hardware, software, and experiences.
By far the greatest change to the hardware is with the screens equipped by these phones. Both new mobiles have what Samsung calls an 'Infinity Display' with 2960 x 1440 pixels and offering certified Mobile HDR Premium imagery. The regular S8 offers a roomy 5.8-inch SuperAMOLED display, and the S8+ a tablet-rivalling 6.2-inch SuperAMOLED display. Of course the much larger screens in similar size handsets to last year's models comes from Samsung dropping the usual physical and capacitive button array from the lower edge of the phones. However, there's a home button "embedded in the screen". Samsung reduced the top bezel for good symmetry. Gorilla Glass 5 adorns front and back of these new smartphones.
New SoCs from both Samsung and Qualcomm will be in the new handsets, the SoC maker will depend on the region you buy the handset. Both are 10nm octa core big.LITTLE processors running at about 2.3GHz when flat out. Processing is supported by 4GB of LPDDR RAM, there's 64GB of UFS 2.1 storage as standard, and a microSD up to 256GB can be added.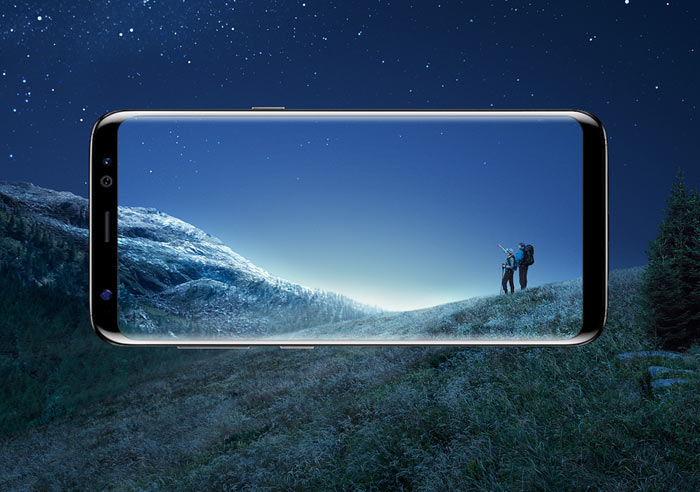 Looking at the photographic capabilities of the new phones, nothing much has changed, especially if you don't take many selfies. The S7 main camera was well regarded so repeating the Dual Pixel 12MP with f/1.7 lens and Smart IOS doesn't seem to be a problem. Meanwhile selfie snappers might be pleased by the upgrade from 5MP to 8MP f/1.7.
Battery capacities don't seem to have changed much if at all. It will be interesting to see if the power draw from the larger screen will be offset by efficiency savings thanks to new 10nm SoCs and other refinements. Samsung has added a USB Type-C port to the new Galaxy S8 phones which should eradicate some charger connector fumbling but both older and newer models support the same fast charging and wireless charging standards.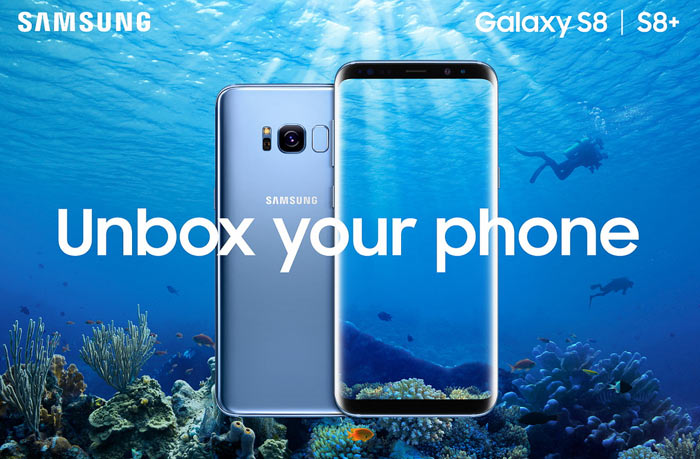 Connectivity could see a speedup with LTE Cat.16 support (up to 1GBps) in the new phones. Last but not least, in terms of hardware, the fingerprint reader has been joined by iris and face recognition systems. Samsung provides new high-performance earphones tuned by AKG by Harman for free, in the box.
As Galaxy S8 users gain a Bixby button on the side, below the volume rocker. Bixby was detailed last week but to recap; it's a new phone AI that aims to enable quick and convenient interaction with apps using just voice commands. Compared to rival and earlier phone assistants Samsung claims that Bixby offers greater completeness, context awareness, and cognitive tolerance.
Samsung DeX is supported by the new S8 and S8+ to "transform your smartphone into a desktop by providing a secure desktop-like experience". DeX provides easy display and editing of phone data from your modern PC.
You will be able to buy the Galaxy S8 and S8+ starting from 21st April. Colours including Midnight Black, Orchid Gray, Arctic Silver, Coral Blue, and Maple Gold will be available, depending upon your region. Already I've received emails from Carphone Warehouse and Sky Mobile detailing their initial offers and pre-orders. It looks like CPW are offering the Galaxy S8 for £689 SIM free and on monthly contracts for £10 upfront and £48 per month. Sky Mobile is offering Galaxy S8 contracts from £36 per month for existing TV customers.