Samsung Galaxy S8
Samsung's newest flagship is expected to be launched shortly. Ahead of such public promotional flurries some unofficial pictures, renders, information, videos and so on, usually leak out.
The majority of the latest leaks and rumours suggest that Samsung will only be producing an 'Edge' model this time around. Without a flat screen model I guess Samsung won't need to use the 'Edge' suffix to describe its sole flagship. However there is speculation that the S8 will come in two sizes; a 5.7-inch screen version, and a 6.2-inch screen model. Right now I am seeing 4K and 2K screen resolutions mentioned.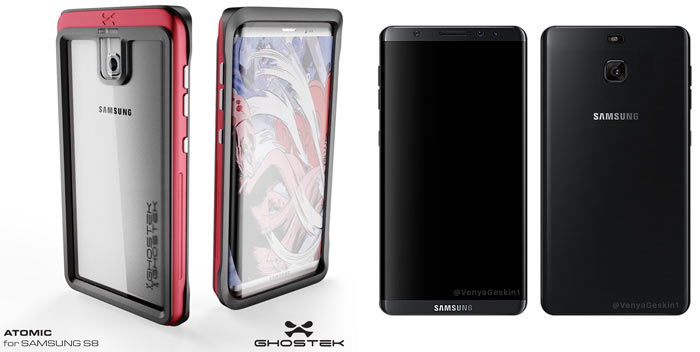 Most speculate that the S8 will not include a physical home button. The button could be replaced by a side button or a virtual home button embedded in the lower half of the screen. Fingerprint and retina scanners can authenticate your access to the device.
A single USB Type-C port is going to have to cater for power, data transfer, and audio recon many sources. So the slow death of the headphone socket continues - but in other audio news the S8 is thought to come with stereo Harman speakers.
It won't be a surprise to learn that under the bonnet of the Galaxy S8 are some of the latest and greatest mobile technologies. Many reckon it will come packing an octa-core Qualcomm Snapdragon 830 chip or Samsung Exynos 8895. RAM could be 6GB or 8GB. Meanwhile the main camera looks set to buck the dual-lens trend with a 30MP sensor with OIS.
A recent source of Galaxy S8 imagery is thought to be a video published by Samsung itself, to promote its AMOLED displays. The video ends with a shot of a device looking very much like the S8 pictures and renders we have seen previously. See above.
The Samsung Galaxy S8 is likely to be launched to coincide with MWC 2017, which kicks off in Barcelona on 27th Feb.
Samsung Galaxy Note7 investigation concludes
Reuters has pre-empted the publication of Samsung's Galaxy Note7 investigatory findings. The news agency has been told by a person familiar with the matter that "the battery was the main reason," the Note7 smartphones caught fire or exploded.
Samsung could apparently replicate the fires in its labs - hardware design and software related matters were ruled out as causes. The full official investigation is expected to be published on 23rd January. Analysts say that Samsung's profits were dealt a 6.1 trillion won ($5.2 billion) blow by the Galaxy Note7 calamity.