The Amazon Echo devices will become available in the UK (and Germany) in the coming weeks and they are pre-orderable right now. Of course this means Amazon's voice assistant, Alexa, will also roll out to become your voice activated assistant via the Amazon Echo and all-new Amazon Echo Dot hardware. In the UK Alexa gains an English accent, we don't know about the German version. Amazon Echo devices have been available for about two years in the US.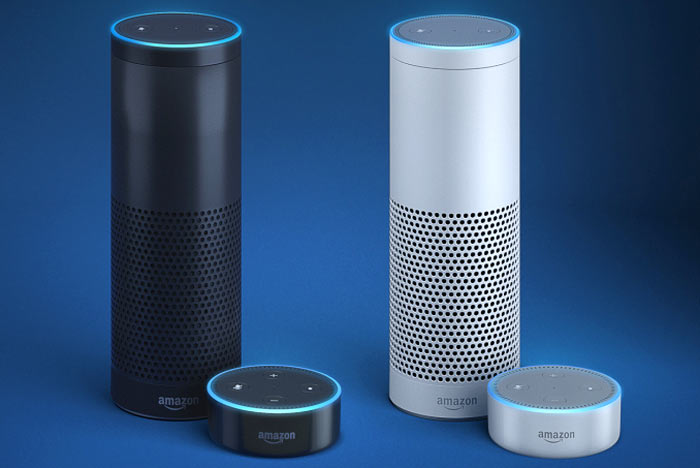 The Amazon Echo will start to ship to UK customers from 28th September, and the compact Eco Dot will ship from the 20th October. Both devices can be bought in black or white finishes. Pricing is £149 for the Echo or £49.99 for the Echo Dot – however Prime members can get the more expensive Echo with £50 off.

To refresh your memories, the Amazon Echo devices "are voice-controlled speakers designed entirely around your voice—they're always ready, hands-free, and fast". Amazon goes on to explain the utility value of Alexa: "Alexa is the brain behind Echo and Echo Dot—just ask, and she'll answer questions, play music, read the news, set timers and alarms, recite your calendar, check sports scores, control lights around your home, and much more." These devices work from across the room and as Alexa is cloud connected 'she' can learn and gain further 'skills'.
The new Echo Dot uses the same high-quality array of seven microphones found in Echo but is much smaller and cheaper. To cut the size and price Amazon has reduced the room-filling on-board sound system down to a small single speaker – but it offers a 3.5mm audio out to connect to any system you already have.

Amazon is encouraging multi-buys of its Echo Dot devices, so you can keep one in each room where you would like them. For example if you buy 5 dots you can get one free.