Intel announced the winner of its Make it Wearable challenge at a ceremony held in San Francisco yesterday evening. The competition started earlier this year as an effort to encourage start-ups to get creative and come up with innovative wearable concepts with the potential to become "the next big idea".
Nixie, a wristband which converts to a camera-equipped drone, bagged the top prize and a $500,000 (£313,000) reward. Intel hopes the cash will help the Nixie team to bring their product to market and secure a leading position in the wearables arena, reports Reuters.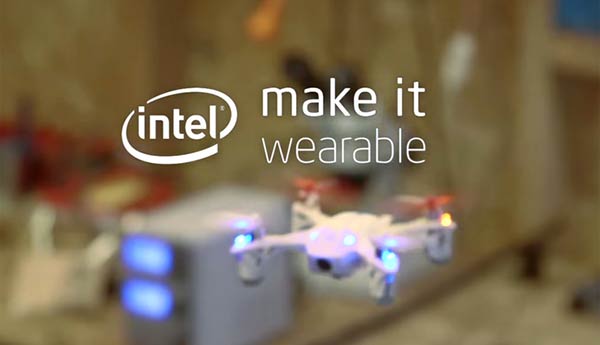 Primarily aimed at rock climbers and other adventure sport enthusiasts, the Nixie quadcopter is worn as a wristband when not in use, and unfolds on cue, flying off and snapping photos from hard-to-reach places. The drone syncs with the owner's smartphone when it returns to their wrist. Nixie's Jelena Jovanovic adds that the wearable could be set to fly in different modes, where "boomerang" mode will see the drone sent off then return to the wrist after taking a picture, or "follow me" mode could provide a longer shooting session.
Over 500 wearable tech developers applied for the contest, which was announced at the last CES. Intel's CEO Brian Krzanich described the first competition as an "an experiment to see what we could do in this space and see what kind of creativity we could spawn", but promised to repeat the challenge again in 2015. Intel is keen to bring its Edison platform, powered by the chip maker's lineup of Quark processors, to the front of future technology trends.
Other finalists in the competition included: SnowCookie, a wearable to help skiers stay safe and perform better on the slopes, BabyGuard, essentially a health monitor for expectant mothers to keep track of the fetus in the womb, and Wristify, a stylish bracelet which actively heats or cools your skin. You can find the full list of finalists here.
In addition to Nixie's cash prize, Open Bionics was awarded the $200,000 second prize for its 3D-printable robotic prosthetics for amputees, and ProGlove bagged third place and was given $100,000 for its sensor-filled glove for workers in manufacturing settings. Krzanich said he believed he would eventually see all of the finalists' products on the market within a couple of years as each team had very strong ideas and pitches.