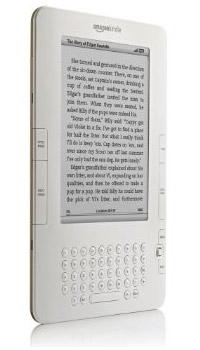 Following an initial launch back in November 2007, Amazon has today announced that the latest generation of its popular Kindle e-book reader will be made available to customers around the world starting October 19th.
The reader, pictured right, measures just 9mm thick and weighs a fraction over 10 ounces. Kindle features built-in 3G wireless connectivity, enabling it to download entire e-books in under 60 seconds, and a 6in e-Ink display promises to "look and read like real paper".
Kindle has already become Amazon's bestselling product in the U.S., and although a UK release has been eagerly anticipated, the October 19th international arrival isn't without a handful of inconveniences.
First and foremost, Amazon doesn't yet appear to have a UK product page available. Instead, customers will be able to order Kindle from Amazon.com at a cost of $279 - but you'll need to add on $20.98 for shipping, and $45 for import fees. That brings the grand total up to $344.98 (roughly £215).
Furthermore, Amazon has confirmed that the device will continue to ship with a U.S. power adapter - irrespective of customer location - and that e-books, newspapers, and magazines will remain priced and sold in United States dollars. Adding insult to injury, customers are also advised that blogs and the experimental Kindle web browser will be unavailable in the UK.
The good news is that a UK version of the Kindle product page is in the pipeline, and Amazon has teamed up with a number of newspapers to provide downloadable content to UK customers from the likes of The Times, The Daily Telegraph and The Daily Mail.
Interested in placing an order? Head on over to Amazon.com/KindleStore