Amazon held its second annual hardware showcase a few hours ago. The Seattle-based etailing and tech giant showed off no less than eight new and updated Echo devices plus several other new hardware products like the Ring indoor security camera, a smart oven, a mesh Wi-Fi system and more. There were also updates and announcements on the software side of things – such as Alexa Guard, and new more natural voices for Alexa.
The Echo Show 8, is a tweener product with an 8-inch 1280 x 800 pixel touchscreen display, 10W stereo speakers, quad microphones, 1MP front facing camera (with physical shutter), and 802.11ac Wi-Fi and Bluetooth. It is advertised at $130, which is $50 more than the Echo Show 5, but $100 less than the 10-inch version. Pre-orders have started already, with availability starting from 21st Nov.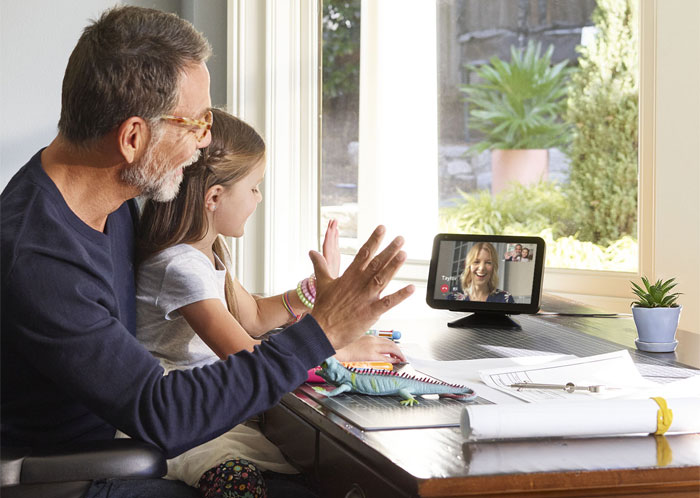 Another update to an existing line comes with the new range of Echo smart speakers. The all new Echo comes with an updated fabric design "and even better sound" but still costs just $99. It expands upon the audio capabilities of the Echo Plus with its 3-inch woofer for stronger bass.
Moving up the speaker range you have the Echo Studio. This premium speaker has a 5.25-inch woofer and 330W of peak power to "produce deep, rich bass by using the bass port at the bottom to maximize airflow and bass output from the woofer," says Amazon. A one-inch tweeter and three 2-inch midrange speakers help to fully-furnish your soundscapes. Amazon says it is a good choice for enjoying the recently launched Amazon Music HD lossless audio streaming service and it features support for Dolby Atmos, Dolby Audio 5.1, and stereo audio. This smart speaker and hub costs $199.
Moving down the range, the Amazon Echo Dot with clock looks like the older Dot but you can see an LED display of the time, temperature, or a timer on its front. At $60 it is just $10 more than the Echo Dot without clock.
A tiny smart speaker that is delivered in household wall-wart format is the cheapest entry to the Amazon Echo range. The new Amazon Echo Flex plugs right into an electric socket and can work as your hub or another Echo smart device. It has a small speaker and mic (can be disabled with hardware button) and can double as a USB charger for your phone, a night light (with optional LED light accessory), and even works as an intercom to speak with other rooms in the house. The Echo Flex is $25 and will ship on 14th Nov.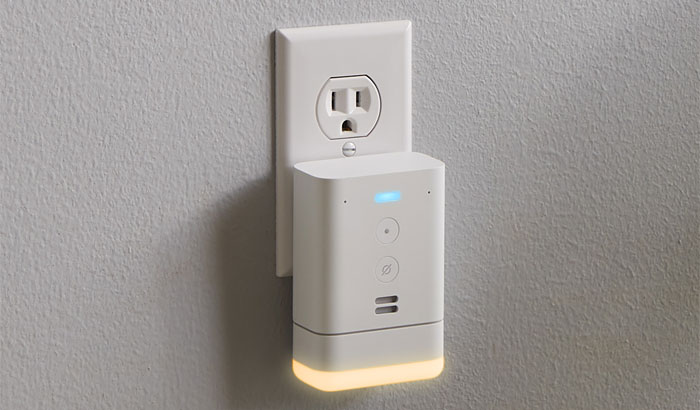 Continuing with audio-related devices, Amazon has some wireless Echo Earbuds. These $129 AirPod alternatives include active noise reduction from Bose, are IPX4-rated, can play back music for 15 hours, and can be used for hands-free Alexa commands.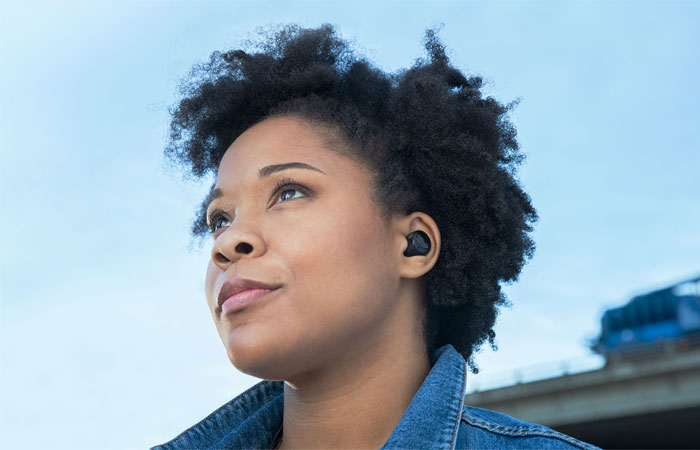 Amazon introduced a couple of 'Day 1 Edition' experimental products to the Echo range. The Echo Frames (Alexa smart glasses, $179) and Echo Loop (Alexa smart ring, $129, exploded below) don't have cameras or displays but do include microphones and speakers. Both can be used to query Alexa while out and about.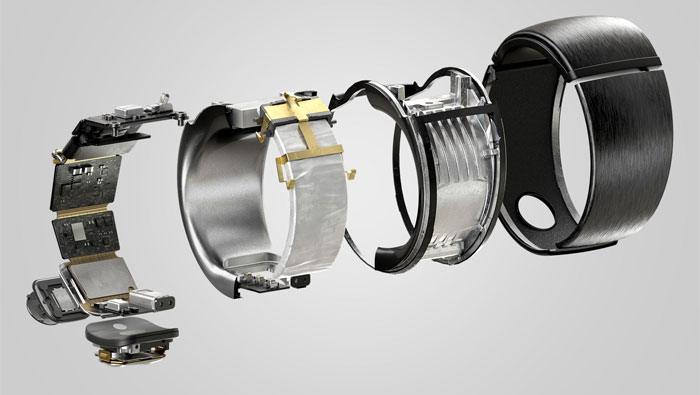 Another Echo device which isn't a speaker is the new Echo Glow. This is a multi-colour smart lamp that is designed to pair with Alexa for storytime, playtime, to work in reaction to music or sounds, or as a sleep timer. It is $29 and coming soon.
Outside of the Echo range, Amazon launched its first smart oven. This $249 oven is a 4-in-1 device (combination convection oven, microwave, air fryer and food warmer) with an Echo Dot included in the pack. You can ask Alexa to pre-heat, start or stop cooking or follow one of 30 present programs. A scan to cook feature via Alexa App or Echo Show, means that the oven knows how long and how to cook something.
Another new Amazon hardware product worth a mention is the eero mesh Wi-Fi system that starts at $99 to $249 for a three-pack. Said to take minutes to set up the home Wi-Fi boosting system works will Alexa and Alexa Skills to pause Wi-Fi on specific profiles or even help you find misplaced devices like phones, all with simple voice commands.
One eero plugs into your router, while others in the home are connected via Wi-Fi or Ethernet. As well as in the US, the eero and eero Pro devices will become available in Europe from November.
Last but not least Amazon has been working on the all-important Alexa software that works in the background for all these devices with AI and ML improvements. I particularly like the feature called Alexa Guard Smart Alert which adds intruder alert and fire/smoke alarm sound detection to any Echo speakers you might have. Coming soon, "Guard will begin supporting a new Smart Alert that can notify customers if the sound of activity like footsteps, talking, coughing, or a door closing, is detected while Guard is in Away mode," says Amazon.
Last but not least there are reports that Amazon is making the Alexa voice more human. In particular it is adding Samuel L Jackson as a voice option, with more celebs to come. Jackson's voice will include swearing on / off options... Furthermore, there are Alexa privacy updates so users can decide how long Amazon holds onto user voice recordings and data.