Following Apple, Roku, and most recently, Amazon's efforts to battle its place in the living room, Google is said to be working on the launch of a new set-top box to follow up its £30 Chromecast dongle. The new box is dubbed Android TV.
According to documents obtained by The Verge, a new Android-powered media platform which will help users gain easier access to movies, TV shows, music and more, from their living room TV screen, is being prepared for launch by Google. Video app providers are apparently building for the new platform right now and the box is reportedly an improved generation of Google's not-so-successful Google TV which was launched back in 2010.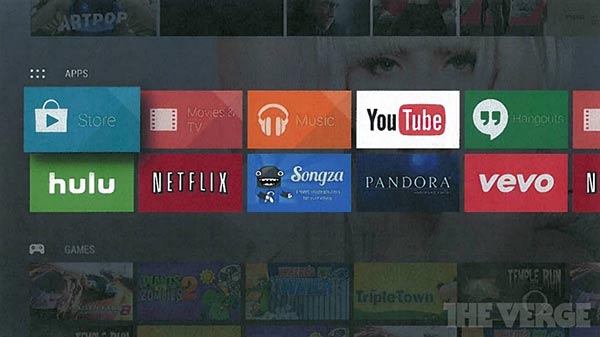 Scrapping Google TV's attempt to turn one's TV screen into a bigger, more powerful smartphone, Android TV turns the television into an "entertainment interface, not a computing platform," says the document. "It's all about finding and enjoying content with the least amount of friction" and it will be "cinematic, fun, fluid, and fast."
Rumours are, Google is trying to simplify the new set-top box where they are encouraging developers to create extremely intuitive and easy to use software. The leaked screenshots provided in the report shows a minimal scrolling UI reminiscent of other popular set-top boxes with categories including movies, shows, apps and games. The UI can be controlled using a remote with a four-way control pad and a few other buttons.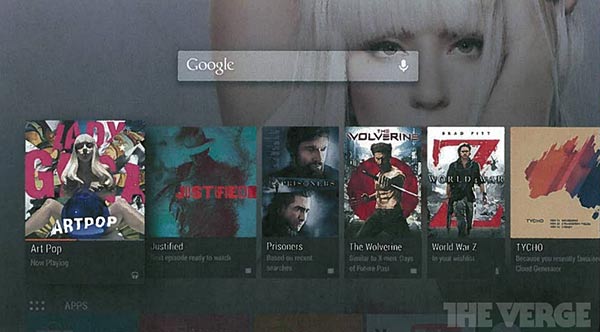 The document highlights that it should never take more than three clicks or gestures to go from the homescreen to a piece of content and the device even recommends what it thinks the user may want to watch. Another easy access feature allows users to resume content they started watching on other devices as soon as they turn their TV on.
Apps including YouTube, Netflix, Hulu Plus, Pandora and Vevo are also shown in the screenshots whilst support for an extended list of Google services such as Hangouts is also planned for the box.
Similar to Amazon's Fire TV, the set-top box is said to double as a gaming platform where an optional gaming controller will be available. It will also support voice commands where content can be found quickly.
It is still unclear whether Google's Android TV software will be showcased in one of Google's own devices or if it plans to rely on other hardware partners, like it has done with Google TV previously. The platform will not replace its Chromecast dongle; therefore developers may have to build two different interfaces, once for Chromecast and one for Android TV. It will be interesting to see if Google manages to take over the living room space with the combination of these two devices in the near future.