Wolverine slashing his way to theatres on May 1st 2009
I quite enjoyed the X-Men trilogy of movies, but it doesn't take a mutant rocket-scientist to figure out that Wolverine is the character that holds the trilogy together.
Fortunately, 20th Century Fox has seen it that way too, resulting in the next X-Men instalment being based on Wolverine alone. Not surprisingly, Wolverine still looks like Wolverine and here's the first image from the 2009 movie, X-Men Origins: Wolverine: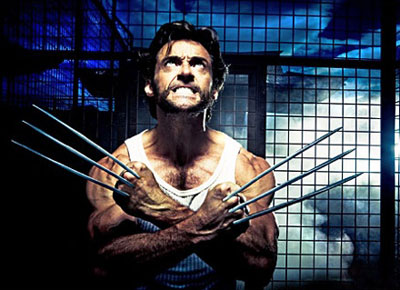 Launching on May 1st 2009, X-Men Origins: Wolverine will tell the tale of a young Wolverine and his involvement in the Weapon X program.
Speaking to USA Today, Jackman revealed that Sabretooth, Wolverine's arch nemesis, "is going to play a big part in it. And there will be a good bit of cameos. But you can't give too much away, because fans are pretty hard-core. Their expectations go up a level every time you come out with a new film."
Damn right Hugh! I'm a big fan of X-Men and Wolverine was my favourite X-Man when I was younger, I've already high expectations for the Wolverine movie.
It's an interesting development for the X-Men franchise which on paper (or comic depending how you look at it) has the potential to spawn numerous sequels, prequels, spin-offs and whatever else you can think of. If you can tell the story of Wolverine alone, you could do the same for Charles Xavier (Professor X) and Eric Lensherr (Magneto). Either way, expect to see a whole lot more of X-Men on the big screen in future, starting with Wolverine in 2009.
If you're wondering why Wolverine looks the same age despite this movie being based many years before the X-Men movies, remember that the regenerative qualities of his healing powers dramatically alter his natural aging process. He's a lot older than most people think (Wolverine that is, not Jackman), but usually looks as though he is in his prime.