Ricoh showed off the Theta camera at IFA last week. This is a small handheld device which captures "fully spherical imagery" at the push of a button, in "one shot". Apparently that's a world's first. The Ricoh Theta doesn't have its own display but must be used as a partner device for a PC/Mac or smartphone in order to download the images. On your smartphone you can explore the spherical image in the Theta app using the touchscreen to pinch, swipe, rotate and zoom the view. You can also upload your images on theta360.com so that they can be embedded in Facebook, Twitter and Tumblr updates.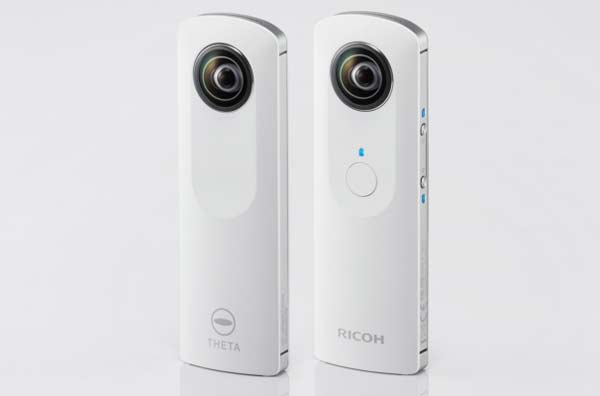 Ricoh's marketing department describe the Theta as "a new way to take pictures" and say looking at the resultant images is "the next best thing to actually being there". When taking a Theta picture "there's no need to pose or compose your shot in any way," as everything around you will be captured by the lenses on either side of the device. The spherical image will probably even show you sights and details you've never seen with your eyes, say Ricoh.
"The RICOH THETA is a groundbreaking device for general consumers of all ages and all photographic skill levels," said Noboru Akahane, president of Ricoh Imaging. "Its unprecedented capability to capture fully spherical images, coupled with affordability and user friendliness, makes the RICOH THETA a tool that anybody can use to discover and share their powers of creativity."
Ricoh Theta key specifications:
Shooting Distance: 10cm-infinity (from the front of the lens)
Exposure Control: Auto
Exposure Compensation: Manual Exposure Compensation +/-2.0EV (1/3EV Steps)
ISO Sensitivity : Auto ISO100~1600
White Balance Mode: Auto
Shutter Speed: Auto 1/8000~1/7.5 sec.
Recording Media: Internal memory (approx. 4 GB)
Storage Capacity: Approx. 1200 pictures
Power Supply: Built-in rechargeable Li-ion battery
Battery Consumption: Approx. 200 pictures
Image File Format: JPEG(Exif Ver2.3) Compatible with DCF2.0
Interface: microUSB, USB2.0
External Dimensions: 42mm × 129mm × 22.8mm (17.4mm)
Weight: Approx. 95 g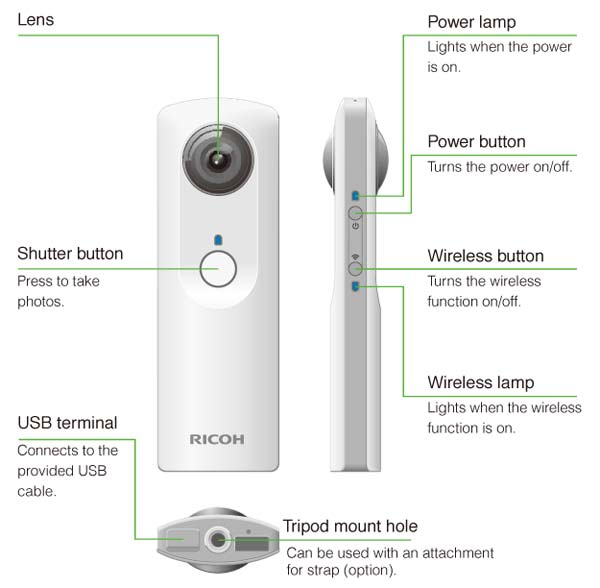 Currently the Ricoh Theta app is only available for PC/Mac and the iPhone 4S and iPhone 5 running iOS 6 or above. Microsoft Photosynth for iOS also supports the Theta. An Android app is expected to be available before the end of 2013. The smartphone app allows you to take pictures with the Theta remotely, view the images from favourite angles and share them on social networks.
The Ricoh Theta looks like a fun and interesting device and may even be useful for businesses; like estate agents, hoteliers and other web businesses where you want to show scenes to customers. However the price is pretty high at $399. Also I notice that the spectacular image at the top of the main page promoting the Theta is overlayed with the small print "This photograph was not taken with a RICOH THETA," (see below) that's a shame as there aren't any comparable Theta landscape photo examples on the site.