Latest addition to Ricoh's Caplio range of compact digital cameras will be the GX100, arriving at the end of next month at £400 and featuring a removable electronic viewfinder, a zoom (5.1-15.3mm) equivalent to 24-72mm on a 35mm camera, a 10.01 megapixel CCD image-sensor and an image stabiliser.



Ricoh claims that the removable electronic viewfinder is an industry first and says it delivers 100 per cent coverage without parallax errors, along with a multi-information display. The built-in LCD monitor is not to be sniffed at either - it's 2.5-inch, with 230,000 pixels, and claimed to offer a 170-degree viewing angle.

The GX100, which takes over from the GX8, can shoot at two aspect ratios - 3:2 and 1:1 - with 3:2 significant since that's the ratio that 35mm film cameras and most digital SLRs use and allows images to be printed at standard paper sizes without cropping.

The 1/1.75in/10.01 megapixel (effective) imager CCD is paired with a Smooth Imaging Engine II and together they're claimed to deliver "low noise as well as high picture quality - precisely reproducing even details".

Images are stabilised using a system that detects camera movement and compensates by moving the imager CCD in the opposite direction. The result, Ricoh reckons, is "clear, sharp, blur-free shots on high-zoom telephoto settings, in macro mode and indoors under low lighting".

All-up weight of the GX100 is just 250g and the camera is slim (25mm deep) and readily pocketable - width is 111.6mm and height 58mm.

Power comes from a supplied DB60 rechargeable battery but the camera can also be run from a pair of AAA cells or via the mains from an optional adaptor that allows you to shoot, not just play back what's been recorded.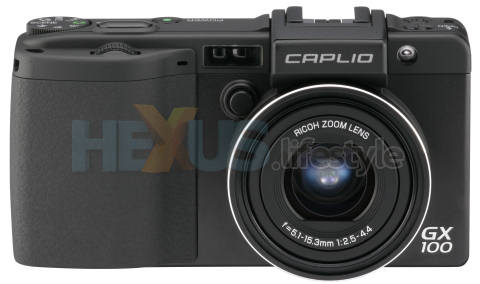 Where's the removable

viewfinder?
Been removed (from the hotshoe), we guess



On the stills side, the GX100 can shoot at eight resolutions between 3648x2736 and 640x480, while video (with sound) can be captured at 640x480 or 320x240. At the two highest still-resolutions, it's possible to capture as RAW or as JPEG at two different compression levels - all other resolutions use JPEG.

Low-light shooting looks to be well-catered for by a top ISO sensitivity setting of 1600. Down at the other end, a setting of ISO80 holds out the promise of very fine-grained shooting in controlled lighting conditions.

Macro is provided, of course, and let's you shoot at 1cm from the subject at the wide end and 4cm at telephoto.

As well as a rechargeable battery and companion BJ-6 charger, the camera comes with a lens cap, a USB cable, an AV cable, a hand-strap, a software CD and a printed manual.

For lots more details, check out the company's press release. To comment, dive over to this thread in the HEXUS.lifestyle community.


HEXUS.links
HEXUS.community :: discussion thread about this article
HEXUS.lifestyle - press releases :: Ricoh Caplio GX100 compact digital camera

External.links
Ricoh UK - digital cameras' home page
Ricoh global - home page