Imaging technology experts at Panasonic have developed a new photographic colour sensor technology with many benefits in low light situations. The new sensor uses "micro colour splitters" rather than a traditional RGB filter array over the image sensor. The new approach results in almost double the brightness within photos taken in low light environments.
Nearly all existing digital cameras use a combination of red green and blue filters for each pixel. A Panasonic news release quoted by Phys.org explains "Conventional colour image sensors use a Bayer array. The filter pattern is 50 percent green, 25 percent red and 25 percent blue in which a red, green, or blue light-transmitting filter is placed above each sensor. These filters block 50 to 70 percent of the incoming light before it even reaches the sensor." The new system doesn't use these filters so can achieve almost double the sensitivity. Instead of filtering the light and losing it, the light is split at a microscopic level and then analysed in camera to calculate the original image RGB values.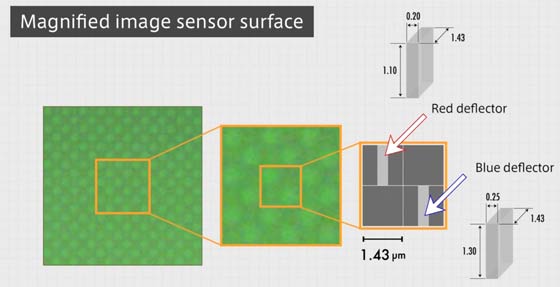 Panasonic sought out this solution after seeing the increase in demand for cameras with higher light sensitivity. Panasonic's new micro colour splitter tech can be used with any kind of light sensor be it CCD, SMOS or BSI. Importantly the new colour splitter can be manufactured on current electronic manufacturing processes and "doesn't use any special materials or processes". This bodes well for the tech appearing in camera sensors in the not-too-distant future. Just wait for the first Panasonic Lumix cameras to arrive with "MCS low light sensor" stickers on them. However the tech does sound like it currently needs quite a lot of in-camera processing power.
To progress the development, Seiji Nishiwaki of Panasonic said his research will fork the design process and refine the micro colour splitter tech for different purposes; for example mobile cameras and night security cameras. You can read more about this development at Phys.org and in the source Nature Photonics paper.