Samsung is currently holding its 2014 Developer Conference at Moscone West in San Francisco, California, and talking about Digital Health, Smart Homes, Wearables and Virtual Reality. We have seen quite a bit of news about its VR headset, called the Gear VR, previously but Samsung took this opportunity to show off an intriguing partner device to record 360 degree 3D worlds at 1 gigapixel (25 gigabits of data) per second and broadcast them to headset wearers, reports TechCrunch. The new imaging device is called Samsung Project Beyond.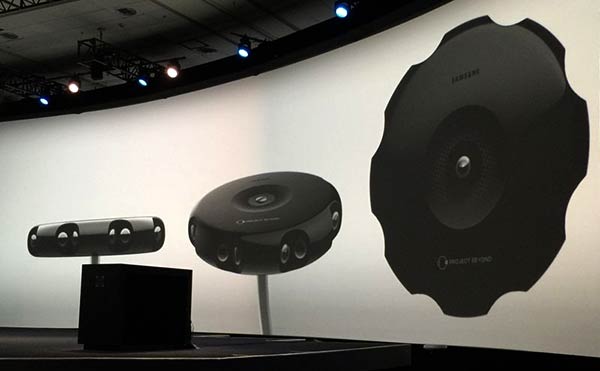 Samsung Project Beyond if a disc shaped device which looks like a camera eye infested Roomba. This device has a total of 16 high definition cameras circling its body. In an example on the conference stage 3D video from a beach was beamed-in and shared. The scene could be shared to - not just one Gear VR wearer - but to "thousands or millions," says TechCrunch. Each of the viewers could look around independently and enjoy some spectacle or other controlled by their own VR movements.
"We're going to put it all over the world"
Samsung foresees Gear VR wearers tuning in or recording live footage to be viewed at any time. So perhaps Samsung will deploy these Project Beyond devices at popular cultural, sporting and entertainment events. CNet quotes Pranav Mistry, vice president of research for Samsung Research America, as saying "We're going to put it all over the world!" He explained that "Once you have your Gear VR, you'll be able to teleport to those places and events."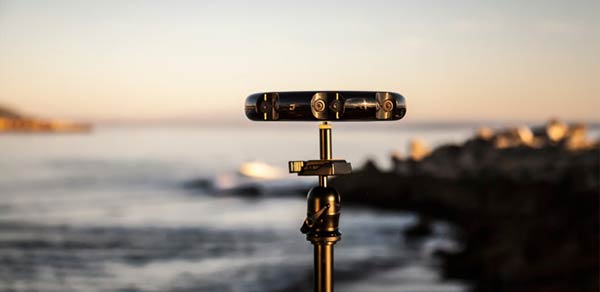 At the end of the presentation several members of the audience managed to get a taster of the Project Beyond in conjunction with a Gear VR headset. The experience is reportedly impressive with a good sense of space and little lag. The Verge notes that while it felt realistic as you moved around your head but if you tried to step forward to explore your world it didn't happen, as the Project Beyond device is just a stationary camera.
Whether the Samsung Project Beyond camera will become a consumer device or just used by Samsung to broadcast to Gear VR owners wasn't divulged. A timescale for when the project would be put into action broadcasting to Gear VR owners also wasn't revealed at the conference.