What are you watching, dear?
Overused term though it is, convergence is creeping into pretty much all electronic devices these days. We all know the PC and telco sectors are converging, but we have to add consumer electronics into that mix too.
A good illustration of this is an announcement from Samsung, that its LED 7000 and 8000 2010 models will come with Skype software embedded, to allow users to make voice and video calls through their tellies.
"Our consumers want their televisions to be a 'one-stop shop' for entertainment and communication delivered with the highest quality," said Kevin Kyungshik Lee, VP of visual display at Samsung Electronics. "We're thrilled that Samsung's consumers can now use our TVs to experience the rich video and voice communication that hundreds of millions of Skype users worldwide enjoy."
From Skype's perspective, this seems to be part of a strategy of trying to get itself on a wider range of devices than just the PC. Skype was sold-off by eBay last year after the online marketplace admitted it didn't have a Scooby what to do with it. This is a sign that its new owners do.
The new TVs are obviously intended to be connected to the web and also come with Samsung's Internet@TV service, which offers some web content. They don't come with built-in webcams, however, but the Skype shop will be flogging Samsung FREETALK cameras soon.
It will be interesting to see how much popular appeal this feature has. We like keeping in touch with our friends and relatives as much as anyone, but we don't necessarily want their face appearing on the screen while we're relaxing (or otherwise!!) in front of the TV.
"Imagine the joy that comes when a family simply turns on its TV set, and gathers together on the couch to see and hear from far-flung loved ones. Fostering these types of meaningful connections is really what Skype is all about." said Jonathan Christensen, GM of audio and visual at Skype. To be honest, John, we're struggling.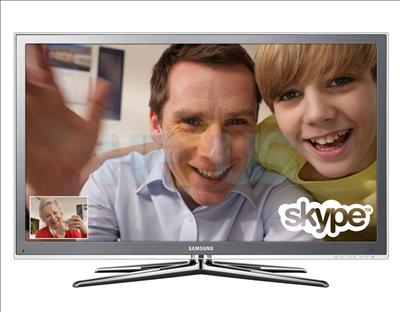 UPDATE - 12:45 26 February 2010 - Incidentally, Skype has also released version 4.2 today, with the following new features:
Skype Access

- Access WiFi hotspots and pay per minute with your Skype Credit. This is a great feature for business travelers.

Call transfer

- With call transfer it's easy to transfer calls to contacts, phones or mobiles.

New call quality guide

- Check your AV settings and the settings of the person you're talking to.