Altec Lansing has announced that its inMotion Max docking speaker system will reach would-be European buyers in March 2009 priced at around £150.
The supposedly ultra-portable and lightweight system, pictured below, is an all-in-one wire-free solution that'll playback music from a a selection of MP3 players - including Apple's iPhone and iPod - or via its built-in FM radio.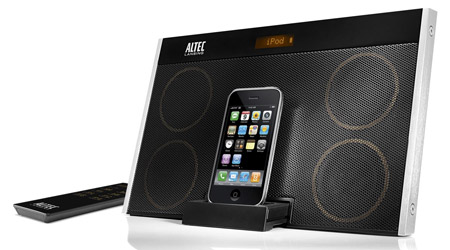 Unlike most portable solutions, Altec Lansing's inMotion Max targets the premium buyer with the promise of XdB-enhanced bass and crystal-clear sound from its precision-matched speakers. It'll run happily for around 3.5 hours on a single charge of its lithium-ion battery, and a auxiliary input allows connectivity to an alternative audio source.
There's a built-in alarm clock that's fully compatible with Apple's iPhone or iPods, and the system will also mute itself when a call is received on an attached iPhone.
Plenty to like for those needing a docking speaker system, but there are a few notable downsides. Firstly, the system isn't quite as portable as we'd like. Measuring 310mm x 52mm x 193mm, it's notably larger than many alternatives. Secondly, at around £150, it's somewhat pricier than competing products such as the Logitech Pure-Fi Anywhere 2 and the inMotion Max's audio delivery will need to be top-notch to warrant the premium.
Official press release: Altec Lansing Launches New "All-In-One" inMotion MAX in Europe