Altec Lansing has today announced European availability of its Orbit iMT237 MP3 portable speaker.
The device, pictured below, is successor to the Orbit iM207 - launched back in 2007 - and provides a few new features as well as an effective rugged design. Altec Lansing's new products seem to be intent on making a statement, but the new Orbit's bullish exterior pulls it off better than the FX3022 Expressionist Bass speakers we recently reviewed.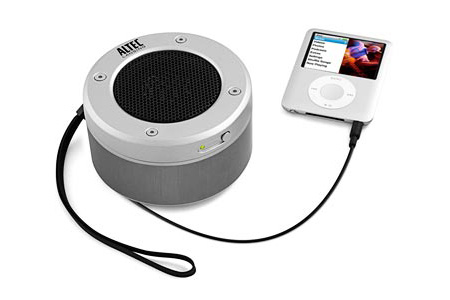 Altec Lansing hails the Orbit as "a sociable alternative to headphones", and it's small enough to be carried around. It's bundled with a neoprene carry case, and is aimed at the iPod-friendly mobile-music market.
Orbit features a single driver that promises a "surprisingly clear 360-degree field of full-spectrum sound without distortion", an on/off power button and a battery indicator. Speaking of battery, Orbit isn't rechargeable but Altec Lansing tells us three AAA batteries will provide 24 hours of playback.
It's available now at an RRP of £29.99.
Official press release: The New Orbit™ MP3 Speaker from Altec Lansing brings music on the move to life