Archos has unveiled its latest portable media players Internet media tablets, and has a trio of devices that appear to be very competitive.
The models, rather basically titled 5, 5G and 7, are powered by an ARM Cortex processor, and are finished in a stylish new design. Gone are many of the exterior buttons, providing for a smart-looking thin bezel and just three top-mounted controls.
Starting off the new range, the Archos 5 offers a 4.8in touchscreen with a resolution of 800x480, and a choice of hard-drive capacities; 60GB, 120GB or 250GB.
The bigger Archos 7 (pictured) provides a 7in touchscreen, but it's sadly limited to the same 800x480 resolution as its smaller counterpart. It does, however, provide more storage, with 120GB and 320GB models available.
The Archos 5G, arguably the most interesting of the trio, packs 3.5G HSDPA for Internet access on the go - in addition to the Wi-Fi available on all three models. The 5G will start with a rather low capacity of 30GB, but we're hoping Archos will bump that up at a later date.
All three offer a built-in web browser, an email client and the soon-to-be-launched Media Club. That'll provide a place to buy content such as music, movies and games over the air.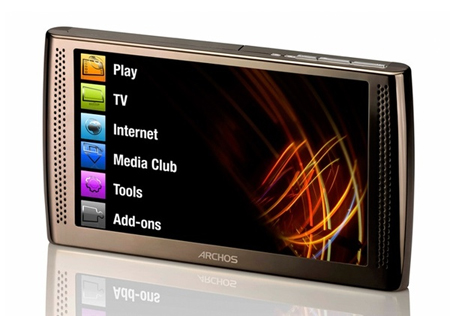 As you'd expect, all three are capable of playing back most content, and should you have the need, additional codecs are available at a cost from Archos.com.
On paper, they're an impressive trio of devices, and offer a worthy alternative to Apple's iPod touch. Unfortunately, existing Archos owners may find the new additions aren't a worthy upgrade from existing models such as the 605.
To our surprise, none of the new models feature multi-touch. Battery life during video playback is still listed as a lacklustre four hours, and the devices ship with only a USB charger. An external power adaptor is optional. There's also no mention of a microphone, so those of you looking to make web-based calls should look elsewhere.
Last but not least, pricing. The Archos 5 will land in September, priced at £279, £320 and £360 for the 60GB, 120GB and 250GB models, respectively. It'll be joined by the Archos 7 in October, priced at £360 for the 160GB model and £440 for the 320GB. Finally, the 30GB Archos 5G will arrive sometime in Q4 at a cost of £359.99.
Official product page: Archos.com