Archos has pre-announced a number of mobile devices that it will be showing off at IFA in just over a week's time. Loïc Poirier, CEO of Archos said of the new range "We are committed to making technology universally available and are proud to shape the market by providing high quality, yet attainable devices." These new gadgets do indeed sport some affordable sounding RRPs. Unfortunately we only know a rough outline of the specifications for now.
The lineup of devices includes; the '50b Platinum' and '45c Platinum' Android smartphones and the '101 Oxygen' tablet. You can read more about these here (PDF). However of more interest are the company's first mobile devices sporting Microsoft's Windows 8.X OSes. This initiative is borne of Archos's philosophy of "being an early adopter of cutting edge technology," and its previous success with the Archos 9 PC tablet with Windows 7 – you must have all heard of that…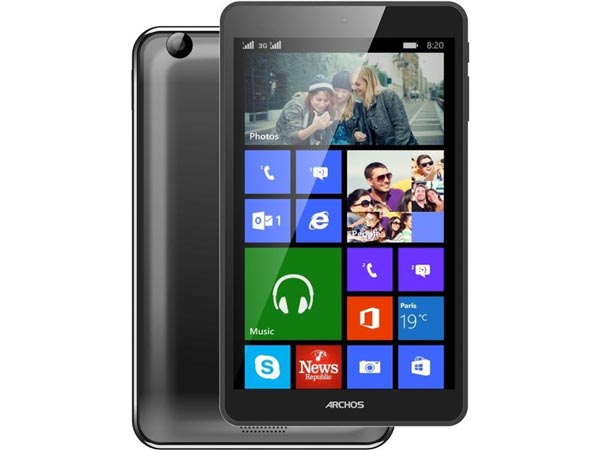 Archos 80 Cesium Tablet
Here we have another Windows 8.1 tablet in the 8-inch form factor. We are told that Archos employs an IPS type screen with a resolution of 1280 x 800 pixels, that's like quite a few others already available. The Archos 80 Cesium tablet is powered by an Intel quad-core processor of otherwise unknown specification.
Archos boasts that this new tablet offers users "the user experience of your desktop on the go". It will be available in October for £129, says the UK press release.
Archos 40 Cesium Smartphone
This smartphone runs Microsoft Windows Phone 8.1. It uses an ultra-clear 4-inch screen of unspecified type and resolution. Inside Archos has chosen to use the Qualcomm Snapdragon 200 quad-core processor which supports displays up to 720p. It's the same processor as used by the Nokia Lumia 530 and Motorola Moto E.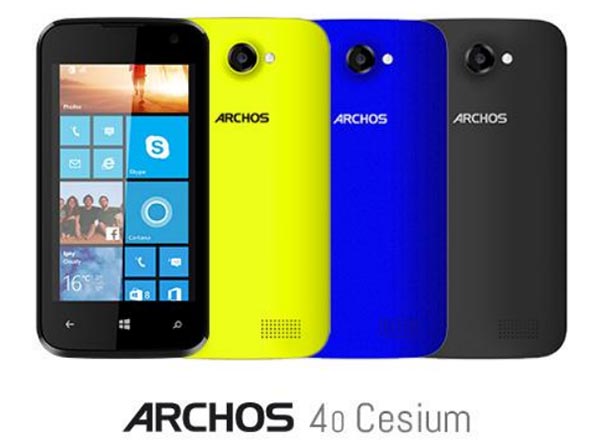 This smartphone is said to be available from September with an RRP of just £79. Buyers will be able to swap coloured back cases between blue, yellow and black.
These new Archos devices show that Windows based devices are starting to consistently reach down to Android prices. However Archos's tablet isn't purportedly as cheap as the KingSing we saw a month ago which is supposed to come to market at under US$99.