Archos has announced that it is bringing out a budget VR headset in time for the holiday season. It will arrive in an increasingly crowded market to rival the likes of Samsung's GearVR, Carl Zeiss' recently unveiled VR One, and even Google's Project Cardboard.
Unlike the Oculus Rift and Sony's Project Morpheus which have their own built-in displays, the makers mentioned in the intro paragraph are amongst those who are trying to introduce VR headsets to the masses by creating inexpensive alternatives which allow users to employ their existing smartphones as the display.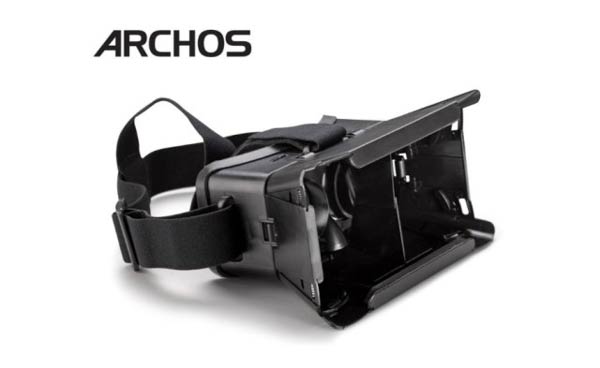 The Archos VR Glasses are much cheaper than the competition (except the DIY Cardboard), priced at £24.99 ($29.99). The French tech company says that the headset will be compatible with any Android, Windows Phone or iOS smartphone measuring between 5 and 6-inches, but advises that a device with a 5-inch Full HD display with a quad-core processor would be the optimal choice. This means that devices such as the Nexus 6 and the iPhone 6 Plus would be ideal for this Archos VR headset. In contrast, Samsung's pricy $199 GearVR headset is only currently compatible with a Samsung Galaxy Note 4 smartphone.
The Archos VR Glasses headset consists of a plastic visor with a slot at the front for users to slide their phone into. Importantly Archos is boasting it has over 100 virtual reality apps that users can choose from for immersive action. In addition to playing VR games, the headset will allow users to watch 3D movies and videos by just downloading the Archos Video Player app on their phone, which has an upcoming update to add stereoscopic mode.
The Archos headset will be on sale in November, so there's not long to wait to try it out. We hope that the Samsung GearVR isn't far behind, as it would be great to be able to compare the devices to see what justifies Samsung's much higher pricing. Carl Zeiss' $99 VR One will be available a month later, this December.