At a first-look event in Manhattan, New York last night Samsung unveiled its 2018 QLED TV lineup. Samsung was confident that its new lineup would be a compelling proposition and highlighted multiple new charms on offer by these TV sets which it believes will turn the heads of consumers. For me the most interesting introductions were the introduction of; ambient mode, SmartThings with Bixby, and the updated 'invisible' connector.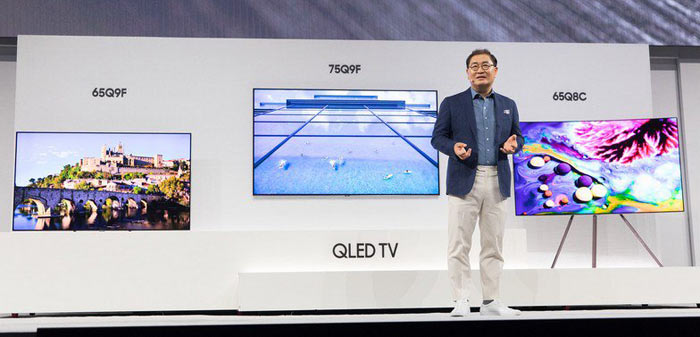 As well as the feature bloat, which may or may not be welcome for some, Samsung importantly claimed better picture quality will be delivered by its 2018 QLED TVs. These are the company's first to be built upon cadmium-free Quantum Dot technology. To make the most of the pure colours that emanate from its quantum dots, in 2018 Samsung has implemented new Direct Full Array backlighting technology to ensures that the screen is illuminated accurately. Samsung says this tech reduces the chance of blooming and halo effects and "enables deeper contrast, with inky blacks and brilliant white". Add to this new advanced anti-reflection technology, and Q Engine technology for upscaling content to UHD, and that about sums up the image quality upgrades this year.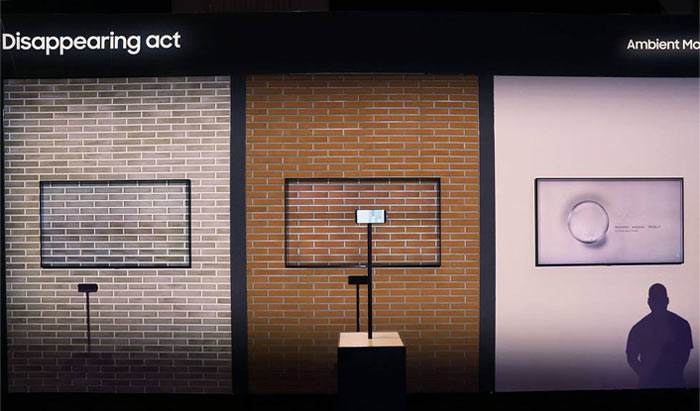 Ambient mode was a crowd pleaser at the event last night. This isn't an 'ambilight' or similar mode but a new chameleon quality for your very-thin bezel 'no-gap wall-mount' TV. Samsung's ambient mode gets the TV screen to mimic the wall that it conceals. It works by processing a picture of the 2018 QLED TV mounted to your wall, and software intelligently matches what it thinks is beneath.
Samsung hasn't uploaded any official videos of ambient mode 'in action' at the time of writing but luckily some third party sites have published some clips, as embedded above. In the clip you can see the ambient mode used on its own and with overlays representing local weather. Samsung's press release says there are further functions to enjoy in this mode like news, traffic, time and music player overlays.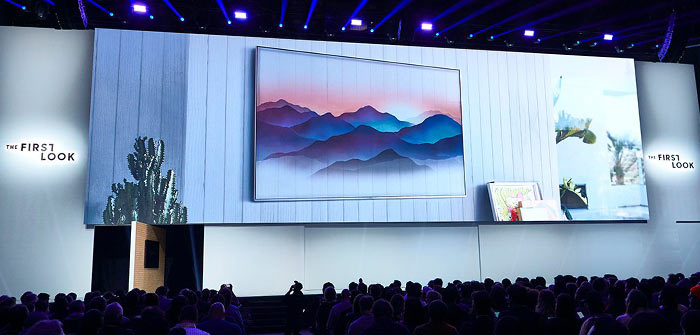 SmartThings is probably the next most compelling feature set. Bixby is present in Samsung TVs for the first time and allows voice queries and commands to control not just the TV but compatible smart home appliances. For example Samsung showed the 2018 QLED TVs providing PiP security camera windows, and the view inside your connected fridge. More common smart home devices such as thermostats, doorbells, and lighting are also operable here.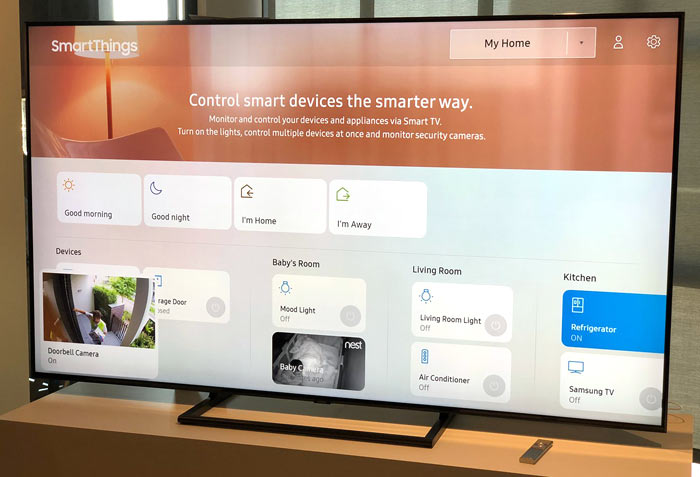 Lastly Samsung has refined its One Invisible Connection, which aims to eliminate cable clutter. Last year this I/O breakout box wasn't the only cable that needed to run to your TV, it also needed a power cable. Now Samsung has rolled power delivery into this thin (partly) transparent 5m cable to the I/O box. There's a 15m cable option too.
The new Samsung 2018 QLED TV lineup will start to roll out from next month. No pricing information was shared last night.