At CES 2018 today Samsung unveiled a huge modular MicroLED-based TV, aptly nicknamed 'The Wall'. The TV on stage boasted a diagonal of 146-inches, however due to its modular technology it is not restricted in size, resolution or form, explained the South Korean tech giant.
MicroLED technology panels emit light from their micrometer (µm) scale LEDs – hence the name. They are much smaller than current LEDs and don't need colour filters or backlights (each chip incorporates RGB colour). Key performance qualities of MicroLED displays are their light source lifetime, power consumption, and luminous efficiency (up to 2000 nits). The result, as well as size flexibility, is "brighter white hues, darker black shades and the truest natural colours," claims Samsung.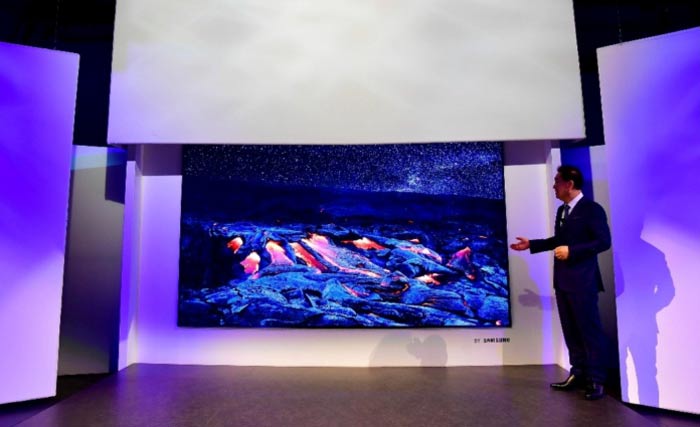 For once in technology circles, 'bezel-less' really means zero bezels, and that is how Samsung makes these modular TVs so configurable and able to extend to larger than life levels. Below you can see a close up of a conventional LED display panel segment (left), compared to a MicroLED segment (right).

As well as the above crowd pleasing huge TV, Samsung discussed supporting TV technologies, important to end users to get the most out of what is often the focus of their living spaces. The firm shared info about its AI-based 8K upscaling engine that makes the most of existing content on the likes of its 8k 85-inch 2018 QLED TV.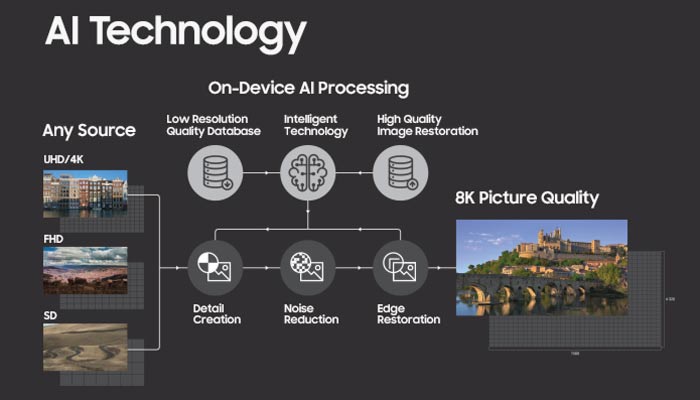 Samsung also shared details of its HDR 10+ platform, enhanced smart TV functionality, and gaming friendly features. For gamers new TVs should enhance experiences with "optimum low input lag and incredibly fast frame rate conversions", says the Samsung Newsroom blog. That sounds a rather nebulous but hopefully we can see more specific details as specific TVs are released.