Samsung hasn't yet announced any standalone VR headset. Its HMDs so far have relied upon its powerful flagship smartphones for the processing power and screens, making them accessibly priced routes to VR experiences for many folk. However, in a partner press release, it has been announced that Visual Camp's VR eye-tracking technology will work with Samsung's upcoming Exynos VR III all-in-one HMD.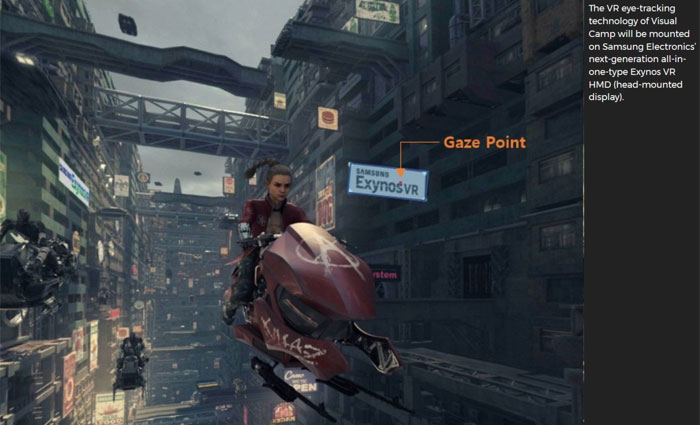 Visual Camp says its eye-tracking for mobile HMD tech caused a stir at last week's MWC Shanghai event. The tech is incorporated in Samsung's next-generation all-in-one Exynos VR III HMD. Such technology improves VR and AR experiences thanks to its natural response. Visual Camp help improve the experience by smartly improving the resolution on the areas of screen being viewed - that makes the best use of the GPU processor, as peripheral areas don't need to be so sharp or detailed. The rendering technique is known as 'foveated rendering'.
In internal testing Visual Camp eye-tracking added a mere 3 per cent to the processing burden. That's important because there are several other real-time technologies that could be in play, beyond the visual rendering, such as hand tracking, voice recognition, and facial expression recognition.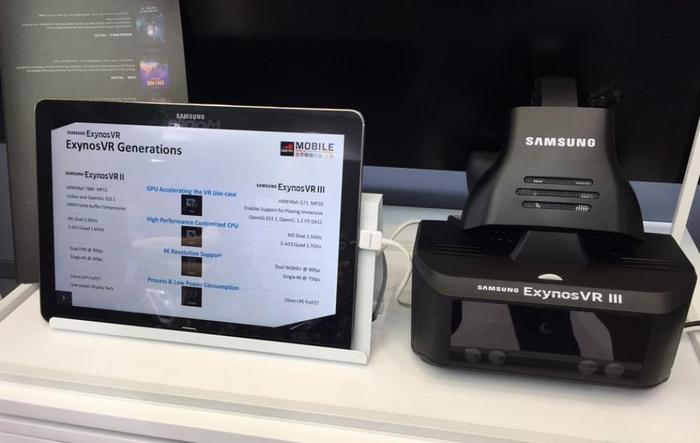 UploadVR has published a product shot from MWC Shanghai revealing some further tech details of Samsung's unannounced HMD. In the image above you can see that the Exynos VR III is an advancement on the also unreleased Exynos VR II. Key tech specs include; a 10nm LPE FinFet SoC which contains an ARM Mali G71 MP20 GPU, an M2 Dual 2.5GHz plus Cortex-A53 quad 1.7GHz processor. The HMD appears to offer a choice of displays; either dual WQHD+ panels at 90Hz, or a single 4K panel at 75Hz. Looking at the hardware photo provides evidence of various components such as front facing cameras and sensors.
Whether this prototype, or reference design, is on its way to market as a finished product remains to be seen. Remember, Samsung hasn't announced this - a partner company just announced that its eye tracking technology is incorporated.